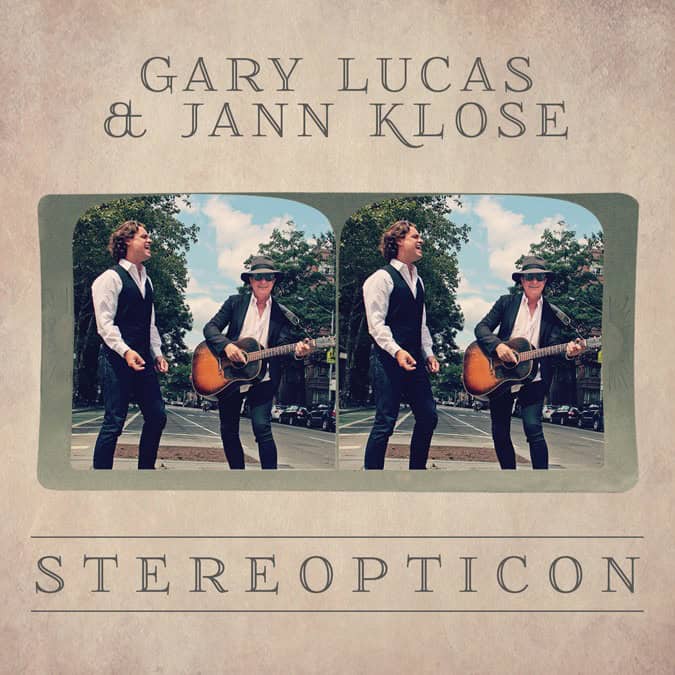 I shot the cover for Gary Lucas and Jann Klose's Stereopticon album during the dog days of summer in the historic garden of The Church of Saint Luke in the Fields, located in the West Village. While the church dates from 1821, its beautiful garden oasis, hidden behind tall brick walls, was created in 1842, which is hard to fathom sometimes as the city seems to shed its skin on a weekly basis. Gary suggested the location as a place to start with so I met him there. We've known each other ever since I struck up a friendship with him and his lovely wife, Caroline, when I was starting to collect interviews for my book, My First Guitar.
Gary Lucas and Jann Klose started song-writing together after Klose's then-manager, Anne Leighton, introduced them at a Jeff Buckley memorial concert in Brooklyn. Songwriter Dan Beck, who has written songs with Iron City Houserocker's Joe Grushecky, Dion DiMucci and The Rascals' Felix Cavaliere, joined in with working with Lucas and Klose because he knew them both but from different places.
Lucas happened to be consulting on the film, Greetings From Tim Buckley
which recounts the days leading up to singer Jeff Buckley's performance at his father's tribute concert at St. Ann's Church in New York in 1991. One scene unfolds with the joyous moment when Gary (played by Tony Award winning actor Frank Wood) and Jeff collaborate on what would become the song "Grace." When the film's director was searching for someone to sing Tim Buckley's parts in the film, Lucas recommended Klose. Gary plays the guitar spectacularly throughout the film and Jann Klose sings the voice of Tim Buckley. After filming completed, Gary, Jann and Dan continued writing the songs on STEREOPTICON
, which is titled after a classic slide projector that combines two images to create a three-dimensional effect.
"The title fit since there are the two of us and the album was recorded live on a two-inch tape, the classic analog recording technique," Jann says.
The first time I heard Jann and Gary perform early incubations of their songs for Stereopticon was at the 25th Gods & Monsters anniversary concert at The Poisson Rouge.
The day of the album cover shoot, I popped out of the subway and spotted Gary scooting along in his recognizable fedora. He was ahead of me by about a block and a half. I am no good at the wolf whistle so I trailed after him, schlepping my gear, feeling relieved to see him as I was uncertain which secret gate to enter. We caught up, staked out a bench and waited for Jann.
Whether I'm writing about musicians or photographing them, it's about capturing all the colors, shading and spirit that I find within their artistry. The brand of camera and lens and computer keyboard I'm using is irrelevant. What matters most to me is simply listening and relating. Gary is a natural raconteur, both mordant and diabolically observant. He excels at pinpointing the absurd. And then he happens to play these intricate, gorgeous melodies. Jann carries himself with an unassuming, laid-back air that swings from curiosity in one minute to a melody in the next. He tends to speak about five words and then sing the rest of whatever it is he has to say. His words naturally take flight this way.
Gary and Jann performed their hearts out over the next hour for the lucky birds, the bench-sitters and the meandering tattooed gardener, all while I scooted and crouched and shot and readjusted. Jann and Gary played the finger-snappingly catchy Fair Weather
and then segued into "Secret Wings," an appropriate anthem devoted to coping with New York City's 24-hour, siren-wailing grind. We continued to drift musically like this throughout various areas of the enormous garden.
It was a peculiar day for its shifts in the light. It started off blastingly sunny and then turned toward a diffuse bright glow and humid haze. By the time we left the park to search for some brownstone stoops, the brilliant blue sky reappeared.
"Why don't we shoot in the street?" Jann suggested.
"IN the street?" I asked.
"Yes."
"Do you know how Vogue magazine does some of their modeling shoots?" I asked him. "You know, those really crazy ones where the model is dressed in billowing couture without a hair out of place and she's gazing into the eyes of a notoriously temperamental, exotic monkey perched upon her wrist. They're standing smack in the middle of Broadway at rush hour with Times Square looming in the background. And of course, the monkey appears to be magically spellbound by her presence, oblivious to all the honking taxis, pedestrians and gawking tourist hordes…"
"Yeah, how do they do it?" Jann asked.
"They Photoshop it. This way no one gets killed. And the dress doesn't have to undergo any heavy duty dry cleaning."
"Fuck Vogue," Jann responded with gusto.
Cue in The Beatles' "Why Don't We Do It In The Road?" Oh but hold on, wait a minute, didn't John, Paul, George and Ringo at least wait for the traffic light before crossing the walk for their Abbey Road
album cover?
Fuck it. We're crazy New Yorkers. We have things to do. We have no time to wait around for traffic lights. When you listen to Stereopticon and glance down upon its cover, know that shot was emphatically and fearlessly taken during moments of heavy truck and taxi traffic zooming by on either side of us. No Photoshop allowed.
I had no sooner captured a dozen frames, including this one, when Gary announced, with his uncanny timing, "I don't know about you guys but doesn't a tall iced tea sound pretty good right about now? Why don't we go have an iced tea at Frankies? "
Below is what transpired inside my viewfinder as Gary exhaled those words:
Frankie, the owner of the Frankies 570 Spuntino, whizzed by on his bike with his girlfriend on the back seat just as Gary uttered the prospect of us decamping to this one Tuscan fare restaurant afterwards. What are those odds?
Hell yeah to iced tea. It was a miserably hot day and we were good to go. We had a zillion great photos.
When Frankie greeted us at his restaurant, he was worried he'd ruined the shot as he swerved to avoid a collision. Far from it! It's not every day that such confluence happens, like this album. It was one of those lovely, crazy moment which made Manhattan feel, for once that afternoon, if briefly, like a small town.
My thank yous to Dan Beck and Anne Leighton.
For more details on the album and concert dates, please visit: http://www.lucasklose.com.
* * *
* * *
Click here for some beautiful guitar and camera straps both!