I was trying to think of a freebie to offer on this page with the idea of providing readers a chance to relax and enjoy learning something new without all the holiday prompts to buy.  What better than to discover some new reading material?  I've culled a few title recommendations here that are available for free online.
Confession:  I have a library card, which is great for research but often abominable when it comes to checking out library books, at least in Manhattan.  It's next to impossible to obtain any title that's hot because there can be a 250-person long wait-list with 3 copies available, no eBook available (or, the eBook IS available, but for some incomprehensible reason, only 3 people can access it at a time.)  And, lastly, Manhattanites are expected to be speed-readers with all of 2 weeks granted to read a book, whereas Brooklynites land an additional third week. 
Over time, I've come to accept that the next best thing (to moving to Brooklyn) and landing the lottery for a crumb-flecked library loan is…Amazon's Kindle Unlimited.  It's free for the first 30 days and $9.99 monthly thereafter, cancellable any time, and offers the opportunity to "take out" up to 10 books, which you may then swap out and return for another.
With musicians in mind, I came up with this list of 10 accessible, 5-star-rated books that might be of interest:
Remember, the first 30 days are free! 
1.  Mercury and Me:  The Updated Edition by Jim Hutton and Tim Wapshott
Rami Malek's amazing performance as Freddie Mercury in the biopic Bohemian Rhapsody last year has restoked much interest in Freddie Mercury, and this title was written by Mercury's boyfriend, Jim Hutton, includes 50 full-color photographs from Hutton's personal archive.
---
2.  Beethoven:  Anguish and Triumph by Jan Swafford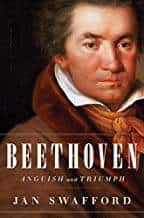 Music historian Jan Swafford has written well-received biographies of Charles Ives and Johannes Brahms, and given its bestseller status and high ratings, his bio of Beethoven appears to have achieved the same regard.
---
3.  The Mental Game of Electronic Music Production by Jason Timothy
For those electronic musician newbies, this might help you overcome some production hurdles. 
---
4.  Meet Me in the Bathroom:  Rebirth and Rock and Roll in New York City 2002-2011 by Lizzie Goodman.
Named a Best Book of 2017 by National Public Radio and GQ, this book is billed as an "an intriguing oral history of the post-9/11 decline of the old-guard music industry and rebirth of the New York rock scene," if you can stomach the despair of a city's music venues turned into pop-up shops and empty high rent spaces.
---
5.  The Practice of Practice: How to Boost Your Music Skills by Jonathan Harnum. 
Why practice when you can read about how to practice?  All musicians can stand to learn new tricks for efficiency. FYI: the hardcover version of this book goes for $85.00 so reading this via Kindle Unlimited is a steal.
---
6.  Kim Gordon:  A Girl in a Band by Kim Gordon. 
The 2015 New York Times bestselling memoir, written by the bass player of Sonic Youth. Short chapters filled with edgy 80s New York flavor.
---
7.  Break on Through:  The Life and Death of Jim Morrison by James Riordan and Jerry Prochnicky
This book on The Doors lead singer is described as "the definitive Morrison biography," one that clocks in at 400 pages.
---
8.  Leonard Cohen on Leonard Cohen by editor Jeff Burger
Based on a compilation of more than 50 interviews of the legendary singer-songwriter, spanning the decades between 1966 and 2012, this book includes a foreword by singer Suzanne Vega and trove of rare photos.
---
9.  Mauro Giuliani 120 Studies for the Right Hand (+Tabs and Free Online Video Lessons) by Mauro Giuliani and Joshua Rogers  (editor, foreword) 
For the classical and not-so-very-classical guitarist who would like to improve upon their right-hand technique using this famed method.
---
10.  The Two Year Wait List by Noreen Wenjen
I chose this book because I love the cover. Though I have this title positioned at #10, it may be at the top of my reading list, as I'd like to know how Wenjen handles that gotta-get-ahead type of parent who prioritizes math and science ahead of music lessons without any awareness of what kind of mind-bending math skills it takes to play the time signatures of a Dave Brubeck piece or The Beatles' "Happiness is a Warm Gun." 
There's never any reason to believe that music lessons automatically foster fanciful fairy castles of ambition doomed to failure, just as there's no guarantee that your child will win the Nobel for acing their SAT scores.  However…it's been well-documented that many Nobel Prize-winning mathematicians and scientists did play a musical instrument, including Dr. Martin Chalfie.  Author Wenjen offers her proven method to develop a successful and thriving music teaching practice.
* * *