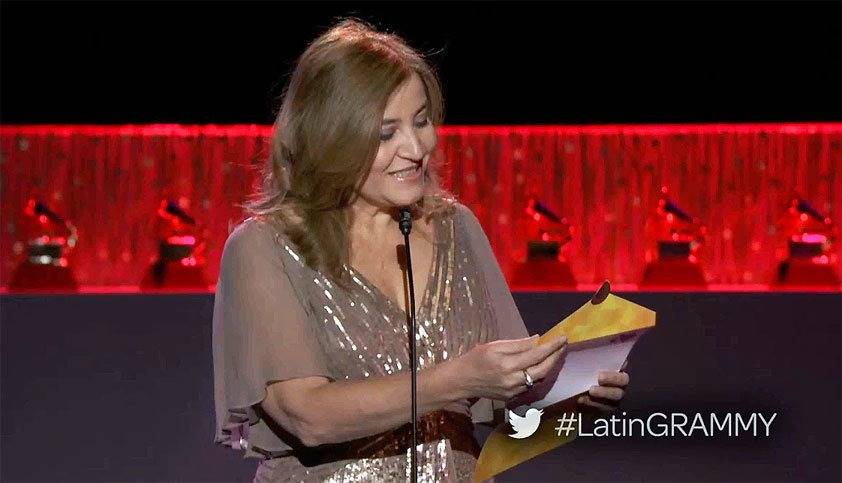 Last month, Latin Grammy-nominated classical guitarist Berta Rojas had the honor of presenting awards to several artists for the televised broadcast of the ceremony from MGM Grand Hotel in Las Vegas. This year marks Rojas' second nomination and her first time presenting the awards. As only a few musicians experience this honor, Berta Rojas graciously provides a glimpse:
"I was in Las Vegas for five days," Rojas says. "The pre-telecast of the awards ceremony was held within the Hollywood Theatre at the MGM Grand Hotel, a space which is used by the magician David Copperfield for his show. Gabriel Abaroa, President of the Latin Recording Academy, told us that Copperfield was very gracious, taking a short vacation from his shows so that the Latin Grammy could use the venue. The actual telecast was held at the MGM Grand Arena."
"The ceremony began with the celebration of the life and work of great Latin figures which, this year, included musicians such as Ney Matogrosso, Valeria Lynch, Los Lobos, among others," Rojas said. "The Academy thanked those who have done so much for music in this region of the world. It was a truly a memorable experience."
"This spirit of gratitude continued at a dinner that evening to honor the "Musician of the Year." This year, the honoree was the Barcelona-born songwriter, Joan Manuel Serrat. At this very moment as I am speaking to you, his music is playing on the radio in Paraguay. Serrat's music is popular and well known in the Spanish-speaking world and the fact that the Academy paid tribute to him has impacted us very deeply.
"On the second day, I attended two celebrations–the premiere ceremony, in which categories such as classical and jazz received their awards, and then the telecast ceremony. The impact of the telecast ceremony is great. President Obama chose to speak about immigration reform right before it. That speaks volumes.
"Backstage is a lot of fun," Rojas says. "It was filled with people getting their make-up ready and groups getting dressed-up. Everybody was making jokes and the atmosphere was very relaxed. Presenters read through their scripts and some who did not speak Spanish as their first language worked on their pronunciation with a coach who was in attendance.
"When the moment arrived, a stage assistant came to fetch and usher you onstage. What made this experience so special was the opportunity everyone had to chat with the main figures of Latin music. Gabriel Abaroa was friendly and approachable and his spirit reflected the celebration of the evening."
Berta Rojas presented a total of seven awards to various musicians at the 2014 Latin Grammys ceremony.
"That was a big surprise for me," she says. "I am under the impression that it might have been a first for a classical guitarist. I had the privilege and great honor to present the award to the flamenco guitar legend Paco de Lucía, who died earlier this year. His wife Gabriela Carrasco and his two children were there and it was incredibly difficult not to cry. I also presented awards to Ruben Blades, Lila Downs, Nina Pastori and Soledad Pastorutti and announced the Latin Grammy for Paquito D'Rivera and Chick Corea. It was great."
List of 2014 Latin GRAMMY Awards:
LIFETIME ACHIEVEMENT AWARDS:
Carlos Do Camo (Portugal)
Willy Chirino (Cuba)
César Costa (Mexico)
Dúo Dinámico (Spain)
Los Lobos (USA/Mexico)
Valeria Lynch (Argentina)
Ney Matogrosso (Brazil)
TRUSTEES AWARDS:
André Midani (Brazil)
Juan Vicente Torrealba (Venezuela)
2014 LATIN RECORDING ACADEMY® PERSON OF THE YEAR CELEBRATION HONORING JOAN MANUEL SERRAT
Click here for the complete list of 2014 Latin Grammy Nominees and Winners.
* * *