Every Friday morning in Yorkville, from 10 AM to noon, a small cadre of neighborhood retirees and actors from the HBO television series Boardwalk Empire band together inside Conte's Market to enjoy jamming out on guitar, mandolin, maraca, keyboard, accordion and harmonica and singing everything from country to American standards, old Italian songs and opera.
Lead by 83-year-old Dominic Chianese, who is best known for his role as Uncle Junior from The Sopranos, the musicians and their listeners are squeezed together between the beverage case and haloed by an assortment of breakfast cereals, paper towels, dried pasta and tomato tins on one side and a case of prime cut meats, deli salads and countertop bagels on the other. And this two-hour melding of an old-style New York Italian butcher/corner market with music radiates pure joy.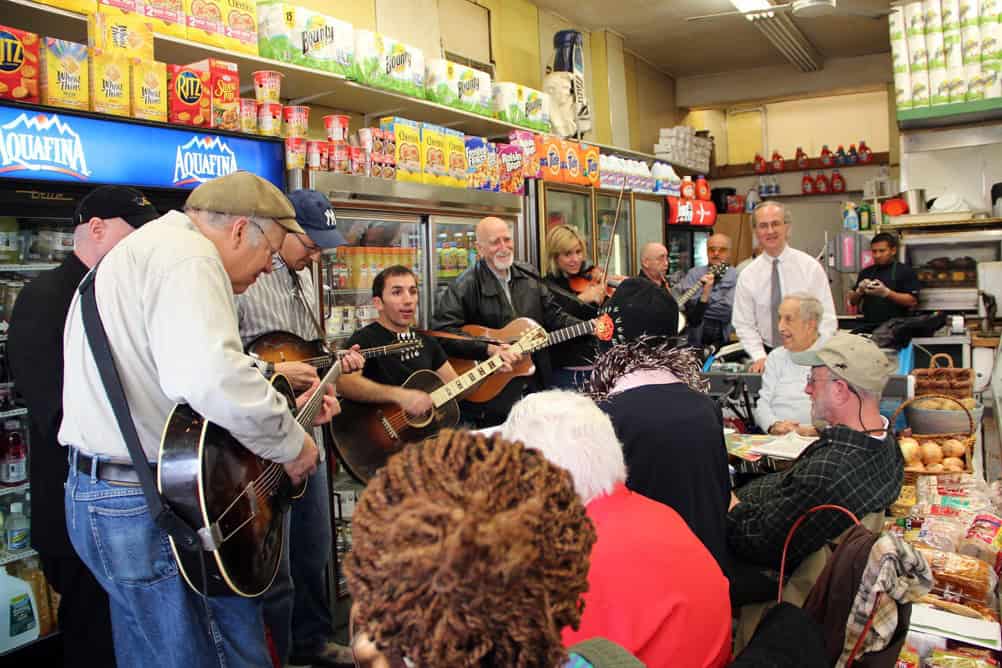 Sidewalk passersby gaze in with a look of amused befuddlement. Locals swoop in for a cup of coffee and stay for a tune. At one point, a nanny parked a double-wide stroller at the foot of the door to quell the fidgeting of one baby who was teething on the brim of a New York Mets cap clutched in her hands as her older toddler brother glowered with his chin propped up on top one fist. His surliness eventually gave way to a flicker of curiosity at the exuberant clamor, not to mention the sight of the keyboardist perched on top the ice cream cooler with a rotisserie of roasting chickens revolving inside a countertop oven just beyond him.
https://soundcloud.com/gtrblg/sets/contes-market
I attended one Friday session at the invitation of my friend Peter Van Wagner, who plays guitar and sings in the group.
"I would say this started about four and a half years ago in a haphazard way," Peter says. "Dominic used to live across the street from Conte's and he used to bring his guitar in to sing Italian songs with "Candy", Carmelo Candido, for market owner Nick Conte.
"People probably know Dominic best from his acting roles. He played the character Leander Cephas Whitlock on Boardwalk Empire, 'Uncle Junior' on The Sopranos and Johnny Ola, Meyer Lansky's bodyguard in Godfather Part II. And he has appeared in film classics like All the President's Men and Dog Day Afternoon. But Dominic also has quite a name throughout New York as this great Italian song singer. So when he was singing for Nick, this guy named Tony walks in and says, 'Uncle Junior! My friend Steve is a mandolin player! I'll see if he can come in!' And then Dennis arrived with his harmonicas. That's how it started."
Peter lives in the neighborhood as well and happened to drop by Conte's one Friday to listen. As luck would have it, an audition callback several weeks later resulted in his role on Boardwalk Empire as Isaac "Icky" Ginsburg, Nucky Thompson's attorney.
"I found myself sitting right next to Dominic on my first day at Boardwalk, during a table read of the script," Peter says. "I introduced myself and told him I had just seen him playing in the neighborhood at Conte's and he asked, 'You play anything? Come join us!'"
So guitar-playing Peter came to join the trio in 2012 and the group has been expanding ever since.
"I learned that Dennis, who plays harmonica, designed most of Kiss' iconic album covers along with several album covers for Diana Ross and he does web design today," Peter says, "and Steve, who plays mandolin, wrote a book, Old as the Hills: The Story of Bluegrass Music."
Peter mentioned of some the regulars who were not present: Myron Weiss, who plays mandolin; Howie Tischler, the dentist who plays jazz tenor sax and Tom Socci, the accordion player. "People sit in when they can. We have this revolving set of players along with new people Dominic corrals," Peter says, pointing out that he is just back at Conte's after a hiatus of doing a play in Syracuse, shooting a film in Texas and television commercials in LA.
The day I was there, one drop-in recruit had been a marvelous fiddler, Elana James of the Hot Club of Cowtown. At one point during their set, the entire group encircled singer Loretta Ponticello, age 90, to accompany her spirited renditions of Kurt Weill's "Mack the Knife" and Dean Martin' "Don't Talk About Me When I'm Gone."
"Peter, why don't you sing that loving song to Loretta?" asked Dominic.
Peter leaned in with his guitar with an opening flourish and sang, "Wild About My Lovin'."
84-year-old Mary Ford listened intently and tapped out a rhythm on her bodhran. During a break, she told me that she plays Irish session music weekly downtown, at Dempsey's. "It took me three entire days to get used to playing with these guys because they have a different style but once I did, it is so much fun."
"One day we were playing at Conte's when this guy turned up at the counter who looked awfully familiar," Peter says. "It was John McEuen of the Nitty Gritty Dirt Band, who'd gotten Mother Maybelle Carter, Doc Watson Earl Scruggs and other bluegrass and country western legends together to make the landmark album Will the Circle be Unbroken. He also taught Steve Martin how to play banjo.
"Well he went right home and came back with his 1920s Gibson Mastertone banjo and joined us. One of the guys said later it was as if a bunch of duffers were about to tee off and Arnold Palmer magically appeared and asked if he could play along.
"It's about the joy of playing music for the love of music. One project dear to Dominic is that we take our playing to the older folks," Peter says. "On Sundays, he'll go to play at places like the Mary Manning Walsh Home on York Avenue. Dominic knows all these songs from when they were young and it's incredible. The staff has told us that some of these people do not talk but, when we are there, they will start singing because they remember the tunes.
"Seeing the positive impact, Dominic has set up his Joy Through Art Foundation as a way to raise money for musicians to go into nursing homes and play.
"I've gone with him a couple of times to play. We go up and down the halls singing. Then afterward," Peter says, "we go to an Italian joint nearby for minestrone."
* * *
Peter Van Wagner is mentioned in My First Guitar: Tales of True Love and Lost Chords (ECW Press). When he is not busy filming, he plays lead guitar on his new PRS SE One guitar with a P-90 pickup in Riffmaster and the Rockme Foundation.