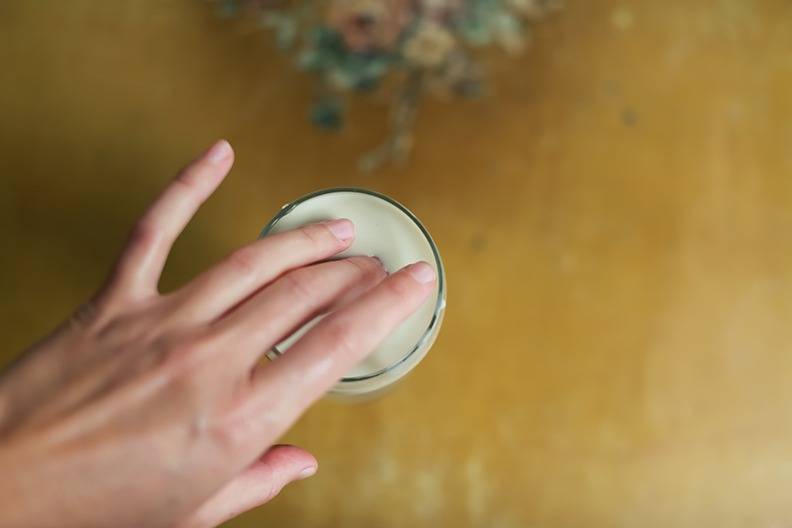 Tis the season to address cuticle care. I've covered humidifiers for guitars but not much in the way of how winter dryness also affects the hands and fingers, particularly for guitarists whose hands require care for performing.
I'm shameless on this front because my teeth will generally do, absent-mindedly, as the first line of attack on a hangnail, though, of course, logic and experience have served adequate proof that this never really solves the problem and just makes matters worse.
I also play classical-style on the electric guitar, which means I play steel strings directly with my fingers. I'm not 11" softball-playing reckless, but have been known to reach into a 400F/180C oven to pluck French fries straight off the baking tray like an eagle swooping in on a delicious porcupine. And, most days, my hands are covered in paint flecks.
My hands get stuff done and make things. They do not sit folded demurely inside a trophy case behind glass, nor are they insured by Lloyd's of London. Perhaps they ought to be, but it wouldn't be for their beauty.
Probably the most memorably disastrous hangnail I ever had left me walking around The Prado a couple years ago, taking in all their Hieronymus Bosch, Picasso's Guernica and Goya's Pinturas Negras with the indelible taste of blood in my mouth. So I'm well aware, with some chagrin, that I could stand to take better care of the skin around the nails, especially given all the pandemic hand-washing. Plus the month of February tends to be brutally dry in cold climates and unkind to the skin around the nails.
It made me happy to ask a handful of notable classical guitarists what products they personally recommend—and my own recommendations come at the very end because I'm already a self-confessed slob on this front.
If anyone out there has other recommendations to share, please feel free to share them!
These are ordered by first response:
Guitarist Thomas Flippin of www.duonoire.com, who teaches at Concordia College New York and The Diller-Quaile School of Music offers this:


"Hey Julia! Good to hear from you! My duo partner Chris turned me onto "JĀSÖN Purifying Tea Tree Nail Saver." I use it year round to grease my nails before practice and concerts now. Best wishes for continuing endurance through 2020-2021."
2. Three-time Latin Grammy Nominated Guitarist Berta Rojas, who teaches at Berklee College of Music, keeps it simple with one trusted product from Kiehl's. "I don't use anything special—just Kiehl's Ultimate Strength Hand Salve!"
3. Guitarist Tali Roth, who teaches guitar at the Pre-College Division at Juilliard, recommends a variety of hand cream choices.

"Hi Dear, great to hear from you! I use Aveeno non-fragranced body lotion throughout the day to retain moisture as I sanitize so much…. At bedtime, I use hand moisture such as Mario Badescu, L'Occitane and Ahava or any high-quality hand cream. It's important to sleep with hand cream through the night!"
4. Guitarist Zaira Meneses, who teaches guitar at the New England Conservatory Preparatory School and runs Boston Guitarfest, recommends an easy, all-natural hand therapy that will feel like playing with your food.
"To keep my hands nice and moisturized during winter, I use a home-made scrub of sugar mixed with honey, olive oil and lemon juice. I'll wash off the scrub and apply hand cream. For the area around the nail, I use vitamin E oil, which can easily be found at the Whole Foods or any CVS."
5. French Guitarist Pierre Bibault, who teaches at the Conservatoire Paul Dukas and at Koninklijk Conservatorium Brussel, in addition to serving as Artistic Director at Festival International de Guitare en Béarn des Gaves, offers a uniquely French hand care product, along with the confession that he, too is experiencing crazy amount of hand dryness due to pandemic hand-washing.
"I have used Herome for years, as it is extremely powerful for nail reinforcement. I don't use it currently, but you're right—hands are suffering these days from multiple washings, hydro-alcoholic gels and the cold of winter. Neutrogena is a good hand cream!"
And last but not least, as the raccoon-pawed author of this article who is attempting to be a whole lot better about nail care, I recommend these choices for hands that require intensive remedies. Whatever you choose, at least this article offers a wide variety of options that I hope help some!
For intense hand therapy, my picks are: 1. Original Mane 'N Tail Hoofmaker Therapy Lotion. Unglamorous-sounding but cheap at 6 oz. for $10. If it's good enough for show ponies? 2. Cuccio Naturalé Limetta & Aloe Vera Cuticle Revitalizing Oil, Super-Penetrating. This carries the bright, refreshing scent of bergamot and lemon and is made with safflower, sunflower, cotton seed oil, and aloe vera gel with lemon peel extract and bergamot; 3. Maccibelle Milk & Honey Cuticle Oil Pen. Portable! Great to pull out of your pocket and use instead of scrolling through your phone when stuck in a long queue somewhere… 4. Revlon's Stainless Steel Cuticle Nipper and Pusher and Cuticle Trimmer with Cap. Maintenance! For multi-tasking use during phone calls! 5. Onsen Cuticle Cream. Rave reviews for the worst of overly dry cuticles. 6. Vaseline. Used with cotton gloves. I can hear my Great Depression-Era grandmother's voice weighing in. Vaseline ranks a tad less vile than Crisco, if you don't mind the greasy gunk and weirdness of sleeping with gloves like Minnie Mouse… I tried this once, marveled over the results, and that was it for me because I couldn't get used to the whole sleeping-with-gloves thing, but I'm putting it out there because it's cheap and effective.