[Note to readers: go get yourself a cup of tea, coffee or whatever and settle in because this piece is a long one, a lot of fun.]
This is the first in what will be a series of articles on Dan's Chelsea Guitar Shop in Manhattan, a joyfully unexpected discovery, which pretty much describes everything about the place, from its ever-changing assortment of vintage guitars to its intriguing backdrop of memorabilia, ranging from tiny Margaret Keane-style paintings peering forth from the wall to a moth-eaten, stuffed spotted mountain lion lounging on a shelf by the front door.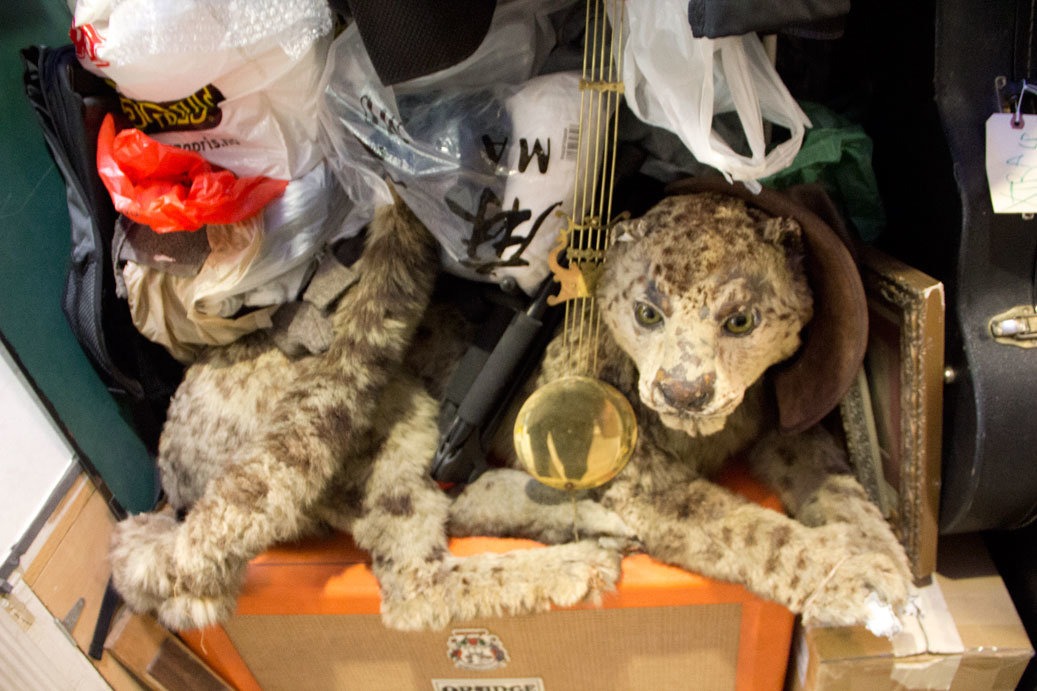 I dropped by here on a lazy Saturday afternoon with my friend David Wallens, the editor of Classic Motorsports Magazine, who is a devotee of browsing guitar shops in the city whenever he is in town. Unbelievably, this was my first time inside Chelsea Guitar. How was this even possible?
In the early 90s, I used to frequent the now-long-gone Capitol Bait & Tackle a few doors down (now relocated to 36th Street), to admire their bedazzling array of fishing lures just as The Sex Pistols' Sid Vicious had done some twenty years earlier. Sid had, in fact, bought a fishing rod there. But for some reason, I'd never stepped into Dan's Chelsea Guitar Shop, located in what used to be Mr. and Mrs. Balabanis' Tailor Shop, with its bright yellow front entrance still bearing the fading letters, "ALTERATIONS FOR MEN AND WOMEN."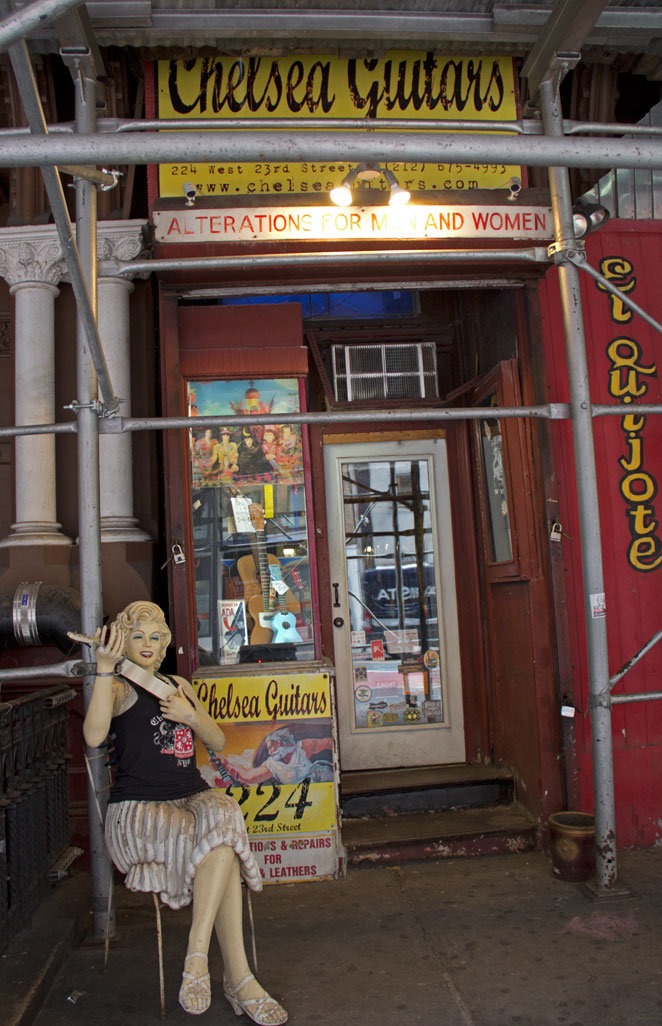 Shop owner Dan Courtenay wasted no time greeting us and sussing out our intentions, which were to essentially, to ogle and perhaps, noodle. As we took in the quirky details of the place, from the army of guitar cases lining the walls on the overhead shelf to a spectacular 1930s-era Kalamazoo Gibson guitar string display box, Dan informed us that his tiny shop may not be staying in its present location for much longer, as the current management has asked him to vacate the landmark Chelsea Hotel after 28 years of business. Dan already moved the store in 2007 from its former location two doors down (now a Doughnut Plant franchise) after 18 years.
"The hotel's current owner, unlike the past three owners, has never stepped foot in here," he says. "The previous owners 'got' this place."
A former denizen of 250-room The Chelsea Hotel himself, Dan proceeded to lay out the challenges the present ownership is facing with the costly renovations that aim to transform the Chelsea into a high-end boutique hotel with luxury condominiums.
"When this hotel was built in 1884, it was considered state-of-the-art construction," Dan says. "The current owner started renovations on the top floor and soon ran into nightmares, like sand inside the ceilings. Sand was the best-known fire retardant at the time. The stuff used in places of lesser-quality construction was concrete mixed with horsehair. And there used to be fireplaces in every room of the hotel until they were ripped out. However, the flues to these fireplaces are still intact, running between the walls, which are three feet thick and made of double-brick walls with debris that was tossed in as insulation. All that has got to come out so they can get to the flue to comply with modern-day fire codes.
"The sad thing is," he says, "there has been a music store in the hotel since 1908. Our departure will be the first break in that tradition."
[Multiple choice time: Riffing on the George Santayana quote, "Those who cannot remember the past are condemned to… (A) delete the word "to," and simply end on the word condemned, period; (B) run over budget on renovations; (C) lead a less-enriched, less-informed existence; (D) …get another Starbucks, or (E) repeat it.]
Early last year, hotel renovation halted after a stop-work order was issued for excessive lead in the dust testing, which came out to 26 times over the legal limit.
Neighborhood History
When the Chelsea Hotel first opened in 1884, much of West 23rd Street was blooming with music halls and theatres, thanks to the recent completion of the Sixth Avenue Elevated train line. The area bounded by 24th Street to 42nd Street between 5th Avenue to 7th quickly became known for its gambling establishments and brothel trade. It was dubbed "The Tenderloin District," after New York Police Captain Alexander S. "Clubber" Williams' remark when he transferred into this precinct: "I've been having chuck steak ever since I've been on the force," he said, "And now I'm going to have a bit of tenderloin." (His "Clubber" nickname referred to his brutish baton skills.)
The Chelsea Hotel was originally built as an early, 12-storey co-op apartment building by architect and inventor Philip Hubert, who was steeped in the socialist theories of French philosopher Charles Fourier. Hubert intended the building to be occupied by residents of all economic strata. Fifteen, sunlight-filled apartments on the top floor were earmarked as artist studios, which set the tone for the hotel's subsequent history, as a staggering amount of talent has claimed residency at one point or another after the Chelsea converted to a residential hotel in 1905.
Authors Mark Twain and O. Henry stayed there. Arthur C. Clarke wrote 2001: A Space Odyssey at the hotel. Poet Dylan Thomas died there after slamming down 18 shots at the nearby White Horse Tavern. William Burroughs mashed out endless cigarette butts inside his room as he tapped out Naked Lunch. Playwrights residents include Arthur Miller, Tennessee Williams and Sam Shepherd. Artists range from Julian Schnabel to Jasper Johns, Jackson Pollock, Patti Smith and John Mapplethorpe.  Assorted film directors and actors who roomed there over the decades include Lillie Langtry, Stanley Kubrick (who directed 2001: A Space Odyssey), Miloš Forman, Ethan Hawke, Dennis Hopper, Andy Warhol and Edie Sedgwick (who set her bed on fire in 1966.) And musician residents have included Tom Waits, Jim Morrison, Iggy Pop, Chick Corea, Jeff Beck, Dee Dee Ramone Johnny Thunders, Marianne Faithfull, John Cale, Joni Mitchell, Nico, Bob Dylan, Janis Joplin, Leonard Cohen and, most infamously, Sid Vicious and his girlfriend Nancy Spungen. This Who's Who list is but a smattering of the hotel's cultural icons whose mystique continues to draw tourists from the world over.
Dan Courtenay and his Chelsea Guitar store claim a vital part of this hotel's history as well, as he continues to offer his charismatic, straight-shooter opinion and love of the guitar to all who cross his store's threshold. The giant T-Rex head bursting through the wall overhead, looking over all the proceedings in toothy askance is named Stanley, in memory of
the beloved former manager of the Chelsea Hotel, Stanley Bard
, who welcomed many of its bohemian guests and often accepted rent payments in the form of a piece of artwork.
Of course, those days are long gone.
Possessed by a sense of urgency, I returned to the guitar shop a couple days later. It was still there, at least for now. Thank god.
The Beginnings
"I started out by driving down South to drop by guitar shops and buy guitars that I knew I could resell," Dan told me. "I tried to be square with these guys, not because I am a nice guy but because it made good business sense. Same thing with the flea markets around here. I would call them up and say, "Look, you've got this priced too low. I can get this amount for it and give you that amount for it. And when people came into the shop to ask what their guitar was worth, I would tell them. I was happy to. Most of these guys had no idea so I was happy to get half of whatever it was worth. Then the computer changed everything.   People down South no longer brought their guitars into music stores but started selling them on eBay.  And they thought every piece of crap they had was worth a fortune."
At this point in our interview, a customer entered the shop with a Martin guitar to sell that had been in his possession since he was 15 years old. I listened in on the transaction.
"They now have a nationwide system in place in case your guitar is stolen here and someone tries to sell it in Tallahatchie, let's say," Dan told him. "It will show up in the registry. We put out an alert. At one point, there had never been any centralized thing like this because a guitar is not like a car. You could do that with license plates but now this system is in place because guitars have become worth more."
The Martin had a crack in its soundboard, the dry weather bane of acoustic guitars.
When I arrived, Dan was wrestling a small electric radiator into the shop and set it up with a fan positioned in front because his shop assistant Chris informed me the ancient Chelsea Hotel radiator by the wall has been functioning erratically. "One day it is piping hot and the next day, it's ice cold." On the opposite wall, a large humidifier compensates by issuing a steady plume of cool moisture that drifts in front of my face like fog.
The customer gazed around the shop in search of a new guitar.
"You've got to figure out if you want a Gibson," Dan advised him, "Or a Fender or a semi-hollow. Epiphone is good. Shockingly good. I'm an old guy so I play a Gibson. Nowadays, Gibsons have become crazy expensive. So don't look down on Epi's– they're not shit anymore."
Turning to me, he said, "I opened the shop here in 1989 after speaking to Stanley [Bard] about it. There has always a music store here in the Chelsea always, one way or another. Not a guitar store but a music store. Like sheet music. Interesting Records was the name of a more recent shop and the first one here was back in 1908 but I can't recall the name of it. When we moved, I had a glass sign from that shop. Maybe look up old vintage photos. There's always been a music store in the Chelsea so this sucks."
[To readers, if you find out the name of that 1908 shop before I do, email me. When I find it, I will post it here.]
When asked what has changed the most for the shop since 1989, Dan shakes his head and says, "I got old."




The Blues
"The guy who changed my life, the reason why I am sitting here, is Albert King," Dan says. "You've got to understand, I was a 14-year-old kid in 1968 watching this huge black man with coiffed hair and alligator shoes. There was this band at the Fillmore East called J.F. Murphy and Free Flowing Salt and they had a harmonica player who came from my neighborhood so it was a big deal to go see this band. Albert was like the headliner but someone screwed up and he didn't come on until way late and it was a school night. In my mind, it felt like one in the morning but it was probably eleven or so, and I had to get my girlfriend home. By the time King came out to play, there was probably 12 people left, no joke.
"I remember he had a one-armed horn player with him and when King played, he initially turned and faced the wall. He had the strangest guitar I'd ever seen—a Flying Vee. He shot off a typical Albert King intro and I was just sitting there watching a man with these hands bend a note that just tore me in half. It really felt like it hurt. I'd never heard such a sound before. I was gob-smacked. I walked out of there with my hands shaking because I felt so overwhelmed.
"King's playing is so full of tension and release. It's very sexy. Every note Stevie Vaughan played is basically from Albert King.  Albert got this big, fat, honking tone. It's big like a baritone saxophone and his voice is extremely mellifluous. He's a crooner. And there I was, this young white kid, thinking, "That's what I wanna be! I wanna be that guy." I didn't know anything, We didn't know anything about that kind of shit in Queens. But I was off and running.
"I managed to hook up with other people who shared the same interest and we'd go out and see shows like Buddy Guy at The Music Box in the Village. And again, on a rainy Tuesday night, there'd be about nine people total in the audience. What amazed me was how kind both the venue owner and the musicians were toward us because, first of all, we had no business being there being under-aged with fake IDs. We weren't there to drink. We were there to listen to music. But they were so nice to us. Just how kind. I started asking Buddy Guy, 'How come my Jazzmaster doesn't sound like your guitar,' and he never said, 'Because I live this shit and you're a stupid white kid whose father's a cop from Queens, are you joking?' Never. He was like, 'Well, son…'
"I have a tape of Buddy on a Norelco reel-to-reel—I'd borrowed the tape deck from someone—and he is onstage talking to us, saying, "T-Bone plays like this."  And then he demonstrates to all nine of us in the audience various tunings used by other blues guys. It was just another normal workday for him. All of these musicians we saw were so nice to us. I would never have been that nice. I would have been like, 'Get tha hell oudda here, you little bastard.'"
"Trust me, for us it was like meeting The Beatles. It was magical. They were very cool and I am so aware how lucky I was to have experienced this. Now I realize, even if they were playing at The Fillmore, which I still believe was the best venue ever to see this music—these musicians were probably making all of $500 for a concert.
"In fact, I think Carlos Santana probably played there for $500 as a headliner. We got there early and saw him putting x's onstage by himself. We asked him what he was doing. He said, "Well, I'm marking this spot here because I'm going to play with sustain and, over there, I'm going to stay away from the guitar amps." He was playing an SG Special with P90s, which is noisy, and, sure enough, during the performance, he would hit that spot, bend the note and it would hang there. And then feedback would blare from those Fender amps. That stuff was mesmerizing, what he did.
A Future Guitar Shop Owner
"When I was a freshman at Queens College, I was on a bus when I passed by a store called Chris's Music and, standing outside was the jazz guitarist Tal Farlow,"  I was 18 years old and it was 1972. Duane Allman had just died and bands like KISS were on the way. I decided I was done with rock music. Instead, I got deeper into the blues and stuff that Buddy Guy listened to, along with Jeff Beck and Freddie King.
"I also started getting into jazz through friends who were older and knew more. As a result, I became more and more fascinated by the guitar. And there's Tal right there, talking to someone. When I spotted him, I jumped off the bus, ran over and shook his hand, which was about this big."
Dan paused to pantomime the guitarist's hand size like a proud fisherman.
"He had flippers, like, for real. I remember two things about him. He had giant hands and he was wearing doe-skin slippers. I just said to myself,
that
is the coolest man. Tal Farlow was the chord guy. He made up chords that no one had ever played before and, because the guy had these crazy, cartoon hands, he could span six frets.
"Inside the store were a couple other jazz guys who I'd heard of through my friends, like Wayne Wright, who were sitting around, just talking. I bought a pack of strings, picked up a broom I spotted in the corner and told the owner I was working there. I told him he didn't have to pay me a dime. I was working there. Done.
"Chris, God bless him, actually gave me a job and paid me. So this store primarily attracted jazz guys and I knew nothing about jazz. That's what got me into the guitar and music stores.
"I used to come into the city from Queens just to visit the music stores like Manny's. Everyone was at Manny's. Once in 1967, my friend Joe and I put about six or seven Strats in the back of a limousine for Jimmy Hendrix, who, in my fantasies, I imagined to be about eight feet tall because, in photographs, his guitars look so little. In reality, he wasn't a big guy. His hands were also huge! I thought, holy shit, there are those hands again. Visiting 48th street and just staring at guitars was where it was at. We couldn't afford any of it but it was great. So guitars have been a long-time passion for me."
Life as a Guitar Shop Owner in New York City
When he was 32 years old, Dan found himself laid up after an elevator accident. "I was out of work for seven months and depressed as shit, quite frankly. I'd hurt my back and had to have operations on my knees. I kept asking myself 'Why am I not happy? You know, the kind of stuff you think about when you're just laying there. I realized the only time I seemed to be happy is when I was hanging around with artists and musicians. I hit me that what I was doing with all my free time was visiting music stores, meeting people and hanging out, doing what we do.
"When the guy who had a music store here in the Chelsea decided to sell, that's when I opened the guitar store. I learned as I went along. You could do that then, in New York, in 1989. Of course, it's all relative in terms of what was worth $1,200 then and what that same sum is worth now but, back then, you had a little room, financially at least, to make mistakes and learn your business as you went along. I don't know how people do it now. When you lease a tiny space at $10K a month, you can't afford to screw up even for a month. It will put you behind the eight-ball right away, which is why so many businesses go under after six months.
"The dichotomy is that the online world has screwed up the storefront business yet it's also helped," Dan says. "I'll tell you why–it brought more focus. More guitars became available to everyone. People started to learn to play. You can go online and find a guitar forum. Some are wonderful and some aren't. You can log in and see people are having an argument over why a Les Paul with a 10-top sounds like—I mean, stupid stuff—where people are sitting there in their underwear in front of a computer, typing away because they're bored.   And that's fine!
"People enter the store more educated now. The more you know, the better it is for us as store owners. For one, you're going to try to buy the best guitar you can and, two, it makes it a lot easier for me."
"We've had an amazing amount of interesting people come in here. Ronnie Wood has been here. Everyone has been here!   Not just guitar players but actors, too. Arthur Miller has been here!   He's probably the greatest American playwright. General Westmoreland has been here. So has Allen Ginsberg and Gregory Corso, just amazing. I'm a reader and I love learning from guys like that."
"Look, if I wanted to make money, I would have opened a crack house or a Mercedes Benz store. I'm probably a good salesman because people pick up on the fact that I actually like this shit. You have to have a passion for this because this is not a good business if you want to support a family, not unless you have a lot of money or are selling new guitars. That's not what this store is. Never has been. It's Floyd's Barber Shop. Remember the Andy Griffith Show? Remember Floyd the Barber? That's what it is—people sitting around, shooting the shit, talking and yelling at each other. This is a Floyd's Barber Shop for music, that's what it is."
Possible Eviction
In 2007, Dan's Chelsea Guitar Shop moved from its spacious 220 W. 23rd Street location inside the hotel to its present location at 224 W. 23rd Street, which is currently hemmed in between the hunter green painted plywood and peekaboo construction doors and the dark veil of netting that envelops the upper floors of the hotel's façade as it undergoes renovation.
"The owner of the hotel was kicked out in a palace coup," Dan says. "It's a long story. The tailor, Mr. Balabanis, who was a friend of mine, was leaving to retire. I took over his space but it's way too tiny. We did the best with it we could and we're getting kicked out again. I just feel bad that all the other owners who came before got this store and knew it was part of the hotel.
"I feel a real affinity for the hotel because it has always meant something to me. I mean, Dylan Thomas and Bob Dylan lived here! And some of the greatest painters! There are guys who still live here who used to help Jackson Pollock sell his paintings under the table so he could get cash to get drunk. That's wonderful. But that's not New York anymore. All the reasons why people come to New York are disappearing.
A customer inside the shop picks up a guitar and breaks into a riff, rather ironically, from "Smoke on the Water," as Dan continues. "Look at Bleecker Street, where you had such a great block with great bookstores and coffee shops. Now it's turned into Tommy Hilfiger and Ralph Lauren. The shop rents tripled from $6K a month. But now all those shops are closed. The point I'm making is this: if a landlord can get $15K a month for a space, why should he let a guitar store stay there for only $5 a month? It'd be very nice of him but it's not a charity. It's business. The problem is, big companies and chains are happy to overpay because they can. And then once that folds, does the landlord go back to accepting a $5K a month? No. That store space stays empty.
"Bleecker Street, which was a beautiful street—my whole life—is now a shithole. It's nothing. What's going to wind up moving in is a bank, like an entire block of ATM machines. You know what happened to
Hogs & Heifers
?   When they got bounced out, they were paying about $12K a month and they were real, one of the first bars to open in the meatpacking district and help revitalize that area. After ten years, their rent was jacked from $12K to $63K, I think it was. Of course they can't support that, being a neighborhood bar.   What are they going to do? Sell a $60 bottle of beer?
"I'm still enough of an old New Yorker to know this is about community. It's why people kill to live here. People aren't often born here. They come to live here because they're crazy and deserve to be here. They work to be here.
"Here's the thing about The Chelsea Hotel. When you grew up, every town in every city had some kid who was a knucklehead with terrible acne who sat in the back of the class and got picked on. They were the nerdiest. None of the football players or girls liked him. Then, ten years later, the nerd has grown up and is sitting in the lobby of The Chelsea Hotel, surrounded by photographers and reporters because he's the world's greatest fashion designer. That's what this hotel is. It's the flotsam and jetsam of the world and to me, these people are what makes this city go. And now, they can't afford to live here. That's a sad, sad, stupid situation. It's never going be the way it was. Nothing is. As my father used to say, 'That's what New York is—constant change.' Our country is driven by money, not by soul. I like money, too, but there should be more of a balance.
When you take a block like this and put up a 60-storey tower, where you've got three banks and, right around the corner, a CVS, a Rite-Aid and then a Walgreens across the street. What the–? Are we all sick? This is the craziest shit I've ever seen.
"If you are coming in from Paris, why would you want to come to New York to see four chain drugstores on the same block? That's not what you come here for. You come here to see cool little restaurants, bars and to hear great music. And those are the places that cannot survive. For the first time in my life, I can say Manhattan is not the coolest place. Of course, all the Parisians who visit the shop here—and they're like New Yorkers, in that they love to bitch—they're telling me how Paris is changing, too. This is happening all over the world. It's happening in London, too.
Dan pauses to bid the "Smoke on the Water" guitarist and his companion adieu, "Take care, guys!"
"So when you walked in London and you were, like in Soho, and there's a sign that says, MacDougall & Sons mapmakers, 1783–now that's a Starbucks. That's what bothers me. They evict this mapmaker, who probably never made a dime but at least the rent was cheap enough for him to do it. That old man mapmaker, who reminded me of Sherlock Holmes, is now gone. And that takes the whole vibe of London.
Dan makes a dismal, sucking drain noise.
"Look, it's all about the people. Right now, we have a lot of people who have this whole theory that it's all about those who went to college under Ronald Reagan—you know, the guys who went to school wearing a suit and the girls, wearing a dress, and they're not taking liberal arts but something like business classes. And now, those people feel it's 'me against the world.' That's what they learned.   They have no sense of community. They have no problem putting a bank in the middle of this block and getting rid of a place where Bob Dylan lived. This hotel is a place tourists flock to. I can't begin to tell you how many people come in here who don't even play guitar. They come here because it's a mom & pop. There's a couple of BBC documentaries that have been done about this shop. Did I tell you about the Ukrainian waiter?"
I shook my head no.
A Legend in the Ukraine
"One day this Ukrainian waiter walks into the shop and says, 'Hey, Danneee!' I asked him, 'How do you know my name?'  And he goes into this story about how, whenever the Russian nightly news fell short, they'd fill in the empty space with the BBC documentary on the Chelsea Guitar Shop. So apparently, all the Ukraine has inadvertently become aware of the existence of the Chelsea Guitar Shop in New York because it was played at the end of their news broadcast, night after night.
"This guy, who is a waiter, mind you, got it in his head that one day he would like to come see New York. He saved up all his money for the trip and the first thing he wanted to do was to visit the Chelsea Guitar Shop. People come here from all over the world."
In 2011, the Chelsea Guitar Shop hit the viral video jackpot when a young boy and his father dropped in from Scotland. 13-year-old Brendan MacFarlane belted out an astonishingly soulful rendition of Sam Cooke's "Just Another Day." In the video, he is accompanied by his father on guitar as Dan looks on from behind the counter and offers his encouragement.
"New York is changing," Dan states matter-of-factly. "People come here and have paid millions of dollars for their apartment and they don't care about the little diner that has great breakfast. They want to go to the new artisanal place the papers raved about as the new "cool" place to go. They have no soul and that's really sad to me.   It's not the way I was brought up."
"Hey, what have you got for me today?" Dan called out warmly to the latest customer to enter the shop.   With a shy smile, the older gentleman dug into his bag and pulled out a page.
"A drawing? You've got a drawing for me? Let's have a look," Dan says, holding out his hand. It is a simple but distinct caricature of Trump's head, crowned with a barrage of editorial outrage.
"You're getting better and better at this. I expect to see more!" Dan says, handing him $3 for the artwork before he departs the store.
"He lives nearby been coming in here nearly every day since I opened the shop in 1989," Dan tells me. "He doesn't always bring a drawing. He picks up dinner from somewhere and I go through it with him, teasing, 'What is this? Do you think that's nutritious?' Or, 'There's too much salt in it, don't you think?' It's this game we play. He knows every single film and press quote uttered by John Wayne. Every couple hours or so I step outside the shop to enjoy a cigarette and sometimes I see him from across the street. He has been known to belt out, 'Hey Dan!  Go get a haircut, you goddamned liberal, pinko blanketty-blank.'
"Unless you know right away it's a famous John Wayne quote, it can sound startling. All the pedestrians stop and stare." [It's an invective The Duke once hurled at the long-haired BBC film critic, Barry Norman.]
Dan's assistant, Chris, looks over an electric guitar brought in by a concerned owner who says its playing action is a bit high.
Bending the Note
"The city may always changing but you know what doesn't change? The power of music," Dan tells me.
"Here's where it's at. When Muhammed Ali had his big fight in Africa, the organizer Don King, you know, the guy with the big hair sticking up, had a big extravaganza before the fight at a soccer stadium.   One of the guests performing for the 60,000 people was B.B. King. I'm not sure if it was the George Foreman fight or the Joe Frazier fight. [It was "The Rumble in the Jungle," against Foreman in Kinshasa in 1974.]
"B.B. gets up onstage. A lot of these people were natives. It was free to get in. They were not entirely attuned to Western culture and this was a long time ago. B.B. gets up and starts to play and the place goes nuts. Then B.B. King bends that note and 60,000 people, at exactly the same time without turning to look at each other– it was just between them and B.B.—reacted like someone punched them in the belly. That sound was so powerful it caused a physical reaction in 60,000 people.
"That's serious shit. Like an atomic bomb."
* * *
For more information on Dan's Chelsea Guitars.
Shop location: 224 West 23rd Street,
Hours: M-F, 11-7 PM, Saturday 11-7 PM, Sunday 12-6 PM.