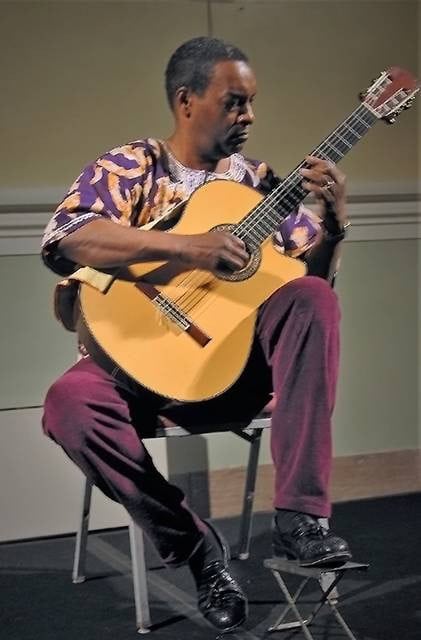 I'm sorry to convey the news that Don Witter, Jr. died this month after just making it to his 70th birthday. He is survived by his beloved wife of 33 years, Heiderose Witter, in addition to his 3 cherished guitars, which he often referred to as his "lap pianos."
Don was a sensitive, thoughtful and gentlemanly guitarist who studied with Pat Martino and once hung out and jammed with Charlie Parker.  Noted as the MTA's first classical guitarist, in addition to being one of its most dedicated official New York subway performers, Don was particularly well-known in New York's classical guitar scene for how his genuine and outsized, rock arena-worthy spirit often surpassed more fragile, tea-cup-sized sensibilities.
Classical guitar is what kept him years younger than his true age because what he brought to the table was pure love for the instrument that was always receptive, earnest, and refreshingly child-like.  Few probably never had any inkling that this Bronx-born native performed a classical piano recital at Carnegie Hall at age five and once performed privately as a teenager for Rose Augustine of Augustine Strings, whom he counted as one of his lifelong friends.  Don was a sincere friend to anyone who loved the guitar.
I always enjoyed watching Don succeed in both terrorizing and exciting many an unwitting yet publicity-hungry musician at their official New York debut concert.  Whenever they spotted him seated front row center with his notepad and pencil in hand, they'd go a-fluttering during intermission to the nearest stagehand and ask who that man was before they'd make a self-conscious readjustment to their necktie, followed by a quick pat to ensure their shirttails remained fully tucked, all before returning to the stage and re-tuning their guitar anew.
Throughout the rest of their performance, Don wore his usual studious and thoughtful expression as he jotted his notes with care, all of which he parlayed later into enthusiastic, exclamation point-laden missives on his blog after offering a backstage handshake that warmly disarmed.  He was always eager to share his new discovery of some performer or point out an interesting aspect of their technique. Every so often, he contributed an article for publication in Classical Guitar Magazine, (U.K.)
Don attended nearly all the New York Guitar Seminars at Mannes and helped manage its official Facebook page.  He was also a long-time, affable member of the New York Classical Guitar Society.  For over fifteen years, he served as one of the New York Transit Authority's officially sanctioned subway performers, their first classical guitarist ever, who held court with his solo performances for passing commuters at Grand Central and Times Square stations, aided by his small red micro cube amp.  He also took great pride in serving on the MTA's annual judging committee to help select new talent annually for their "Music Under New York" (MUNY) program. 
I can still hear his voice reverberating warmly within the vaulted marble atrium near the 42nd Street exit whenever I tried sneaking by inconspicuously to hear him play, "Ah, there she is, the Lady of the Guitar."
At one point, after decades of his dedicated, clockwork-reliable presence, Don vanished, just like that, never to be seen again seated front row center at every concert with his notebook.  A couple of years later, I ran into him outside Carnegie Hall, and we shared a heartbreaking conversation that I won't ever forget.
Don told me somewhat apologetically that he'd stopped attending concerts because he felt pained for pouring himself endlessly and thanklessly into the guitar and supporting other people's concerts. The last thing he wanted was to risk turning jaded about something he loved dearly. He'd decided it was simply better to go live his life, he told me. I understood more than he had any idea.
Fill-in-the-blank here with any profession, and if you happen to be in it long enough, you'll be able to paint a Bosch-like pastiche of all its bad behavior, egos and tawdry, bizarre ripeness running shy of a few large cat roars.  This is life.  A big cat can always rip an arm off, of course, but truly, long-term exposure to some of the less savory aspects of the guitar opens up a risk of feeling like you've landed on the wrong side of an Aztec sacrifice or else turned into a leafless, worn-down stump from the last pages of a particular Shel Silverstein picture book.  Then again, we all go into this knowing that not every piece will be played in tasto.
I get it, just as much as I get the reason why someone like Don spent years performing for a random pulse of humanity that streamed through both Grand Central and the Times Square stations.  He did it because he loved playing as much as the thrill of discovering who he might reach through his music.  He chose to win over the widest and toughest audience possible on a weekly basis.  That alone speaks volumes.  Not even the intermittent shrieks of braking trains were loud enough to drown out Don's passion for playing.  
He was someone who connected with others as a natural, down-to-earth communicator and connector. Tell Don about a concert and the rest of the world would come to know about it, which is precisely the kind of person classical guitar desperately needed.
He filled the world with his own brand of unforgettable ebullience and shall be missed dearly.