London-based flamenco guitarist Juan Martín has released a joyful 4-CD compilation, Guitar Maestro: The Juan Martín Collection (Flamencovision), with each disc featuring a generous set of 70 minutes of music. This collection should please any aficionado of flamenco guitar, particularly those who can appreciate Martín's colorful palette and inventive ability to weave the traditional art form of flamenco effortlessly into contemporary popular music.
Juan Martín has carved out his own path in flamenco, one that brought him from Málaga, Spain to London, where he established his impressive recording career, in addition to authoring many instruction manuals in the art of flamenco playing. When he is not busy touring with his full concert schedule or performing with his trio that features cantaora Amparo Heredia and bailaora Luisa Chicano, Martín runs an annual summer course in flamenco in Ronda, a historic gem of a city located in the south of Spain.
Martín, a featured interviewee in My First Guitar: Tales of True Love and Lost Chords (Souvenir Press), gained his start on the guitar at age six on a Conde Hermanos flamenco guitar. By the time he was a teenager, he left his native Málaga for Madrid, where he studied with his guitar hero, Niño Ricardo, and with his friend, Paco de Lucía. (During a trip to Madrid, I came across the Amor de Dios flamenco dance studio, where Juan Martín used to play guitar.)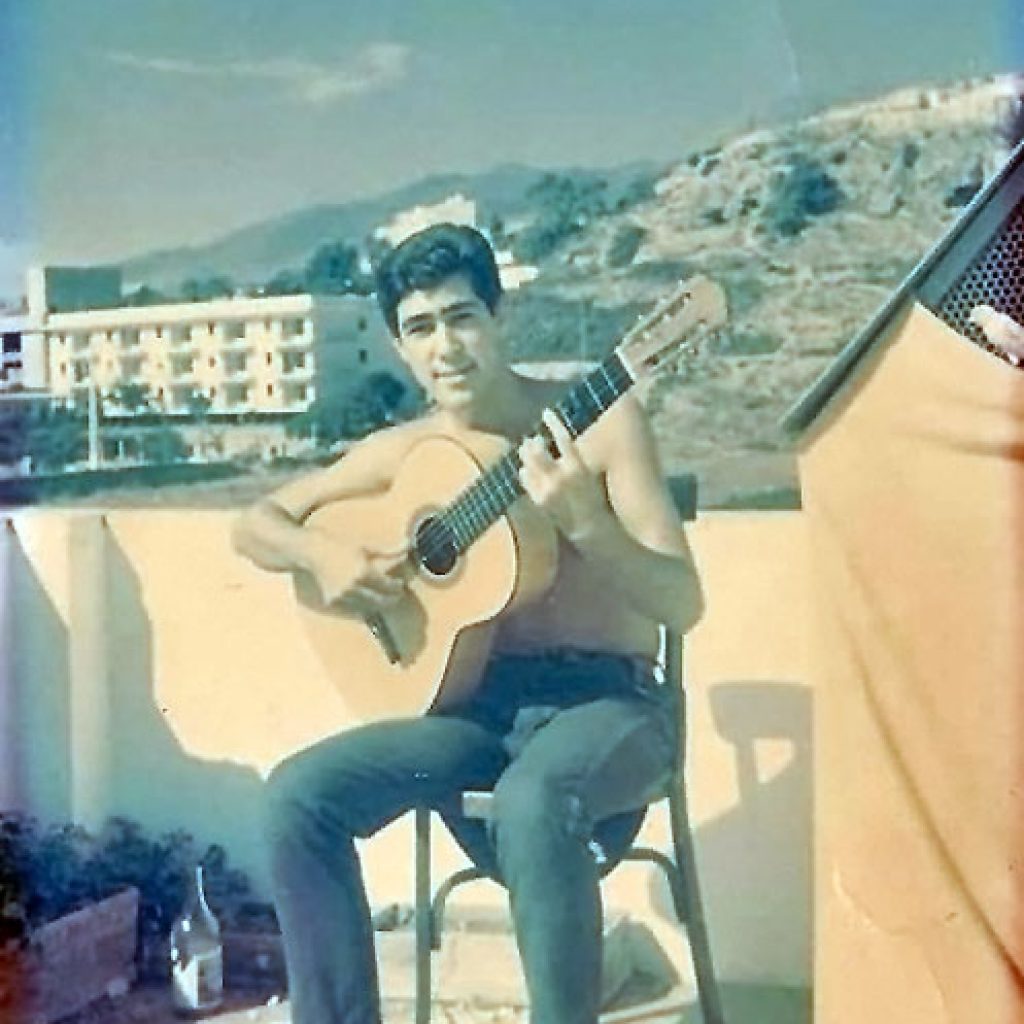 At age 17, Martín recorded a performance for a Spanish film, Donde tu estés ("Wherever you are, or happen to be") before recording his first LP for Decca Records' Argo label, The Exciting Sound of Flamenco. The tracks from this album immediately convey his foundation and level of artistry in traditional flamenco and Cante Flamenco, with all the beauty of sound, crisp rhythm and melody he has infused into his own compositions.
"I recorded this album at Decca's West Hamptead Studio No. 1 in London," he says. "The LP came about through a recording of Tarantas that I made on a Revox tape recorder for a professional violinist friend, Norman Freeman, who was from Chicago and performed under André Previn with the London Symphonic Orchestra. Freeman passed my recording on to Kevin Daly and Chris Hazel at Argo Records, and they acted as my producers.
"When I arrived and Decca and spotted the giant framed photos of Pavarotti, Vladimir Ashkanazy and conductor Sir Georg Solti on the walls, it caused me to enter the large studio No. 1 with some trepidation," Martín says. "The recording studio was empty but for a piano stool placed in the middle with a microphone. I sat down for an initial sound check with my 1972 Gerundino Fernandez flamenco guitar, which is made of cypress wood with a spruce top. I asked the engineers for a little reverb, but they, along with the producers, felt the sound was fine. Who was I to resist this unique opportunity?
"This is why the sound you hear on that album is a little dry compared to today's guitar recordings," Martín explains. "However, its close and 'honest' sound is perhaps why listeners readily discern its intimacy. Other guitars I still own are a Sobrinos de Esteso 1972, which I still consider my main guitar. It, too, has a pine top with a cypress body and tuning pegs. I used this guitar on my second album for the main Decca label and also for two records that I recorded at Abbey Road studios, in addition to many others, including an album with the Royal Philharmonic Orchestra. It plays with clarity, warmth and balanced sound."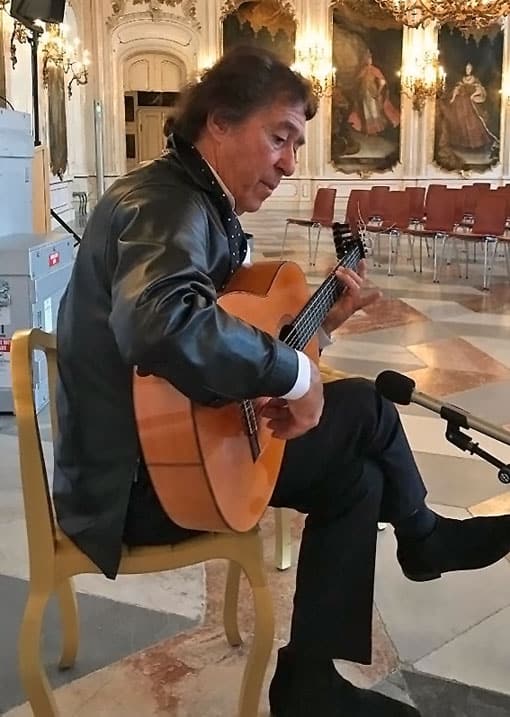 Martín points out the advantages of the traditional peghead tuner: "I grew up playing this kind of guitar, and pegheads allow you to unwind the basses quickly to brighten the sound and then return them to pitch quickly. Some say the circular sound from that travels from the bridge to peg and back from the guitar head, through the neck/fretboard and back to the bridge and soundboard, is a far more organic process than to have the sound vibration stop at the plastic roller of the mechanical tuners. Personally, I've had great-sounding guitars of each kind, with mechanical tuners and pegheads.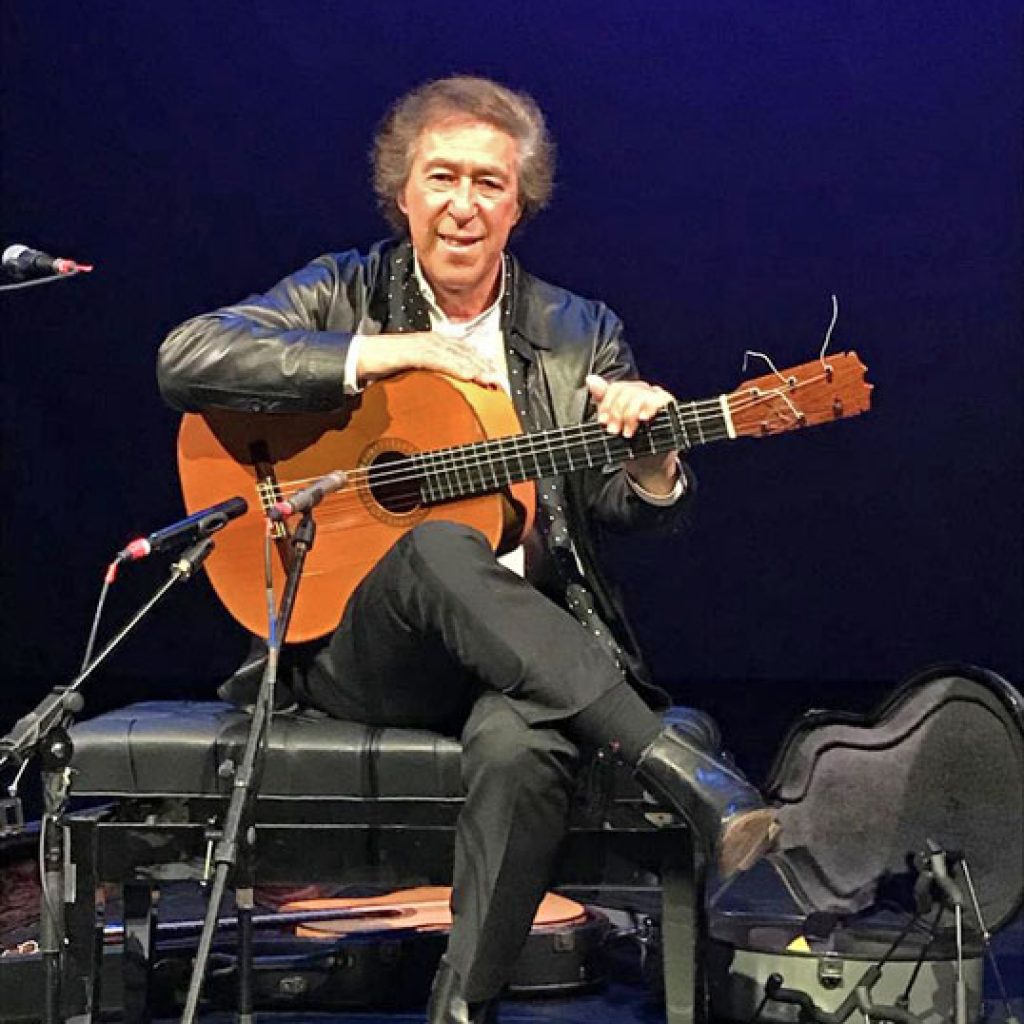 "Many younger players often prefer machine head tuners to peghead guitars because they are easier and more comfortable to handle," Martín says. "When one grows up with pegs you know how to make them secure so that they do not slip, and you learn how to treat them so they turn smoothly. Some players prefer not to incur any risk when tuning, but like anything, it is a matter of custom and getting used to them."
Martín's first CD in the collection features tracks from his earliest albums, The Exciting Sound of Flamenco, The Flamenco Soul of Juan Martin, Olé Don Juan – Flamenco en Andalucía, The Solo Album and The Andalucian Suites.
One favorite track out of too many to choose from within CD 1 of the Guitar Maestro collection is his spirited "Zambra Mora," accompanied spectacularly by darbuka drum.
"I used percussionist Chris Karan through my producer at EMI records," Martín says. "We met up for a play, and I used him on the 'Moorish Zambra' opening piece. We've been friends ever since, and he's played in many concerts with me and other recordings. He is of Greek background, Crisostomos Karanikis, and he's played with many leading jazz artists in addition to playing the drums in actor Dudley Moore's music group."


Martín's Adventures at Abbey Road Studios
Olé Don Juan – Flamenco en Andalucia, Martín's third album, was recorded by the legendary Grammy-winning sound engineer John Kurlander at Abbey Road Studios.
"Abbey Road was a good experience for me," he says. "The engineer for my first solo record, John Kurlander, was a gentle person who made me feel at home. He had just recorded the violinist, Itzhak Perlman, and felt using the same STC4038 microphone would work well on my guitar.
Kurlander was very detailed and insistent that I maintain the same position while playing since this was a very directional mic, and any movement on my part would make it easy to lose the consistency of sound from track to track. In those days, Abbey Road Studios could be used only by EMI/HMV/RCA Victor artists and, upon entering, the framed painting of Nipper the Dog listening to the old gramophone speaker hung on the reception wall. This made one feel privileged to be recording there amongst greats, from Yehudi Menhunin to The Beatles, whose photos were everywhere.
"Downstairs at Abbey Road Studios there was a large canteen where everyone had to queue to pay after they had chosen their food or coffee. On one occasion, André Previn cut straight to the front and was ordered by the tea-lady to return to the back of the queue like everyone else. He announced to her that he was who he was, and that the London Symphony Orchestra awaited his imminent arrival in Studio 1 to start their recording session. Studio time, he informed her, was very expensive! She responded that she' d never heard of him, and that she didn't care if he said he was John Lennon–he still had to wait in the queue like everyone else.
"A unique thing about Abbey Road was they had their own editing suites, and Tony Bell, the senior man, did all of conductor Herbert Von Karajan's edits," Martín says. "Itzhak Perlman and I had Richard Fentiman, who was not allowed to work more than forty-five minutes at a time before taking a break in order to be able to maintain the steady concentration required for razorblade splicing. As there was no musical score for my flamenco compositions, I had to tap on a table with a pencil to give him the in-and-out edit points, which was something he had never done before."
The second CD within Guitar Maestro opens with more tracks from Martín's Andalucian Suites album, along with highlights from his Luna Negra, Arte Flamenco Puro, El Alquimista, Riquezas and Live – en directo albums.
The tracks selected for this disc underscore his majestic orchestration of the guitar, along with all the dazzling heat one anticipates from flamenco. Martín's musical tribute to Andrés Segovia, "Noches en los Jardines de Granada" (Nights in the Gardens of Granada) evokes all the flavor of the Moorish Alhambra and intertwines quotes from de Falla's 'Nights in the Gardens of Spain' with its E minor key.
His composition Ritmo Manantial from his Luna Negra album carries both drive and a scintillating freshness paired with on-point percussion.
Torrente del Alma is a Rondeña, recorded near Juan's home in Málaga and evokes the ascent of the winding mountain roads in Ronda. According to the album liner notes, the opening falsetas of this track are intended to recreate the vertigo felt from El Puento Nuevo, the new bridge, as we look down into the precipitous abyss of El Tajo, Ronda's gorge.
From Picasso to the Top of the Pops
In the third CD of The Guitar Maestro collection, Martín's music achieves further creative bloom that would lead to a Top Ten single. In many ways, listening to each track of this CD collection is like a musical equivalent of traversing through the Picasso Museum in Barcelona and observing a talented artist's early training in the style of Old Masters before their assimilated technique evolves into an altogether new direction as the artist discovers their unique style.
"My mother's painting was something I grew up with, along with the smell of turpentine and oil paints," Martín says. "One of Picasso's main biographers, Sir Roland Penrose, invited me to play at Picasso's 90th birthday celebrations. When Sir Roland Penrose saw my mother's paintings, he commented that she was a wonderful colorist."
Sir Roland Algernon Penrose was an English artist and photographer from the Surrealist movement, in addition to being an art historian and biographer of Picasso, Miró and Man Ray. He is also famed for his work with the U.K.'s War Office for Instructors to the Home Guard for parlaying his artistic skills into the practical application of military camouflage techniques used during World War II, which included the task of disguising pharmacies as an innocuous ice cream parlor.
Penrose's request that Martín write and perform his own interpretations of the master's paintings for Picasso's 90th birthday resulted in the Picasso Portraits album, which is considered to be an innovative flamenco-jazz rock fusion landmark.
"I wrote all of the compositions except for the Asturias and Malagueña, which I arranged for the fusion group. Two of the musicians I used for the recording, percussionist Simon Philips and keyboardist Tony Hymas were working with Jeff Beck at the time," Martín says.
Martín's interpretation of Picasso's 1955 painting "Girls of Algiers" returns to a very sinuous and rhythmical Arabian style with a gorgeous synthesizer background before it blasts off with the perfect evocation of Cubism…jazz flute.
Martín followed this album with his similarly-themed Painter in Sound album, recorded with San Francisco musician Mark Isham to record more music inspired by well-known paintings. Below is one gorgeous track from Martín's second album with Mark Isham, which also features keyboardist Todd Cochran for the track named after the release, "Through the Moving Window." The album notes state this free improv is intended to reflect a train trip hurtling across the Iberian peninsula toward Andalucia, Sevilla.
Recording The Thorn Birds Theme
For those of a certain generation, The Thorn Birds can never be confused with the animated children's series, The Wild Thornberries… The Thorn Birds was a 1983 American television miniseries based on the 1977 best-selling, 700-page long novel written by Australian author Colleen McCullough. Set on a sheep farm in the desolate Australian Outback, this multigenerational saga is an updated morality play for all its soapy melodrama, scandal, torment, karma come-uppance and sticky-sweet saudade brought on by an ill-fated love affair. Actresses who vied for the lead role won by Rachel Ward included Michelle Pfeiffer, Jane Seymour and Kim Basinger. In television history, it ranks as the second highest-rated miniseries after Roots.
Juan Martín's adaptation and performance of Henry Mancini's "The Thorn Birds – Love Theme" was included as part of his 1984 Serenade album, recorded at Abbey Road Studios with the Royal Philharmonic Orchestra. The success of this release led to Martín's appearance on the same British television's Top of the Pops episode as Queen that year, and this track became a top 10 single, which lead to his performance of the whole album live at London's Barbican with the Royal Philharmonic Orchestra.
"I was signed to Warner Bros for a recording and publishing deal, and the TV series starring Richard Chamberlain and Rachel Ward had been a mega-hit in the USA," Martín says. "Warner sent me strings version of Mancini's music, and I worked out the 'Love Theme' by ear and superimposed the guitar over it on a Revox tape recorder at home. The executives at Warner, Elektra and Atlantic (WEA) heard it and loved it, so I recorded it with the Royal Philharmonic Orchestra. A single was released when the television series aired in the U.K. It became a top ten hit, and suddenly I was a pop star, for God's sake!"
Martín found himself plunged into the glamorous grind of requisite television shows and interviews with the world's press.
"Composers started sending me their works with the hope I would record them," he says, "and WEA executives hired limousines to take me to all these press events. It was fun for a while, but I found that doing this kind of work pulls you outside of yourself and makes it difficult to put in enough playing time at home.

"While my hit was in the Top 10, the car sent to pick me up was a stretch limo. When the album slid into the Top 20, I was picked up in a Mercedes 500SL. As the album slid further down the charts, the Mercedes 500SL turned into a top Ford, followed by a gradual lowering of car status that seemed to correspond with my album's slow descent within the Top 100 ranks. Once the record dropped out of the Top 100, the minicab turned into public transport," he says wryly.
"I was walking near Camden Market when I overheard a couple girls who recognised me, 'He looks much better on tele!' After a remark like that, you start to take more care with combing one's hair, but frankly, I felt it was quite good when all the pressure stopped. It cannot be much fun being a celebrity—you lose your freedom."
Random Photo Album of Note
Whilst compiling photographs to accompany this story, some files that Juan sent me did not come through so I performed a raid on his Facebook page and uncovered a few extras: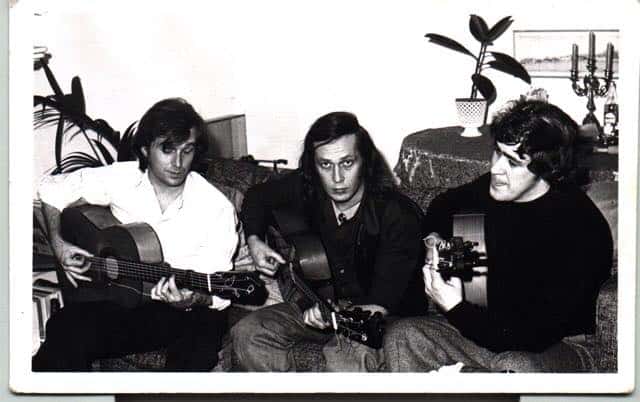 "This photo shows Paco de Lucía in the center. To the left is his one of his elder brothers, Ramón de Algeciras. He is a friend of mine, too, and a distinguished player who toured a lot with Paco. This photo was taken in my home during a private fiesta for our own fun," Martín says.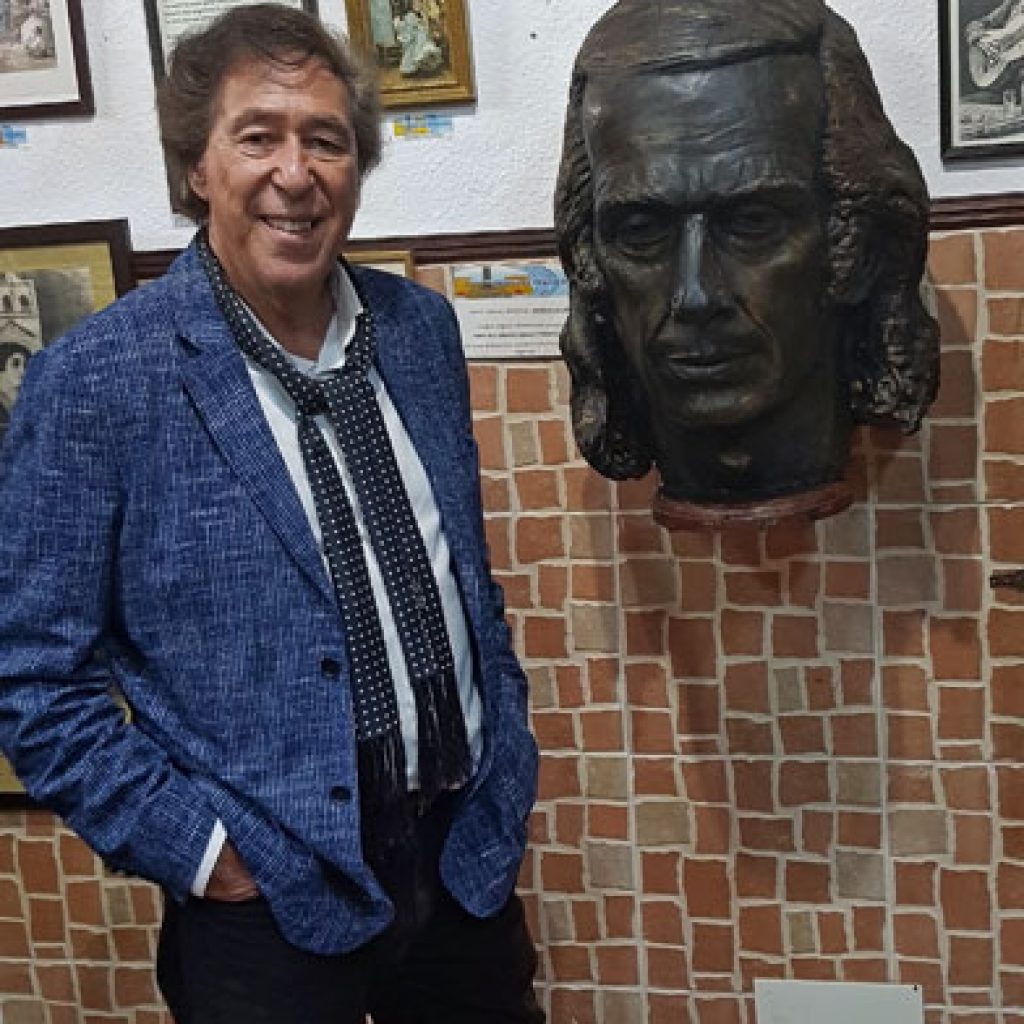 "This photo is from when I performed with Rory Gallagher as well as Richard Thompson and David Lindley, Jackson Brown's guitarist, for a series of concerts in 1984 called 'Guitarist's Night' at the Dominion Theatre, London, Guildhall – Cambridge and Civic Hall, Guildford. We each performed a set and then played together. Rory and I shared a good rapport and recorded live one of my compositions, 'Flight to Paradise,' later known as 'Vuelo' (Flight) that appeared on Rory's CD, Wheels within Wheels. He plays a dobro, and in concert, he played using his old Fender Strat and I, my 'wooden wife', the Sobrinos de Esteso. He even had me singing rumbas! I am still in touch with his brother, who managed him."
"The George Benson photo was taken in his dressing room at the Royal Albert Hall in London after I met him on Breakfast TV that morning," Martin says. "He invited me down and was most interested in my flamenco chords in the Rondeña."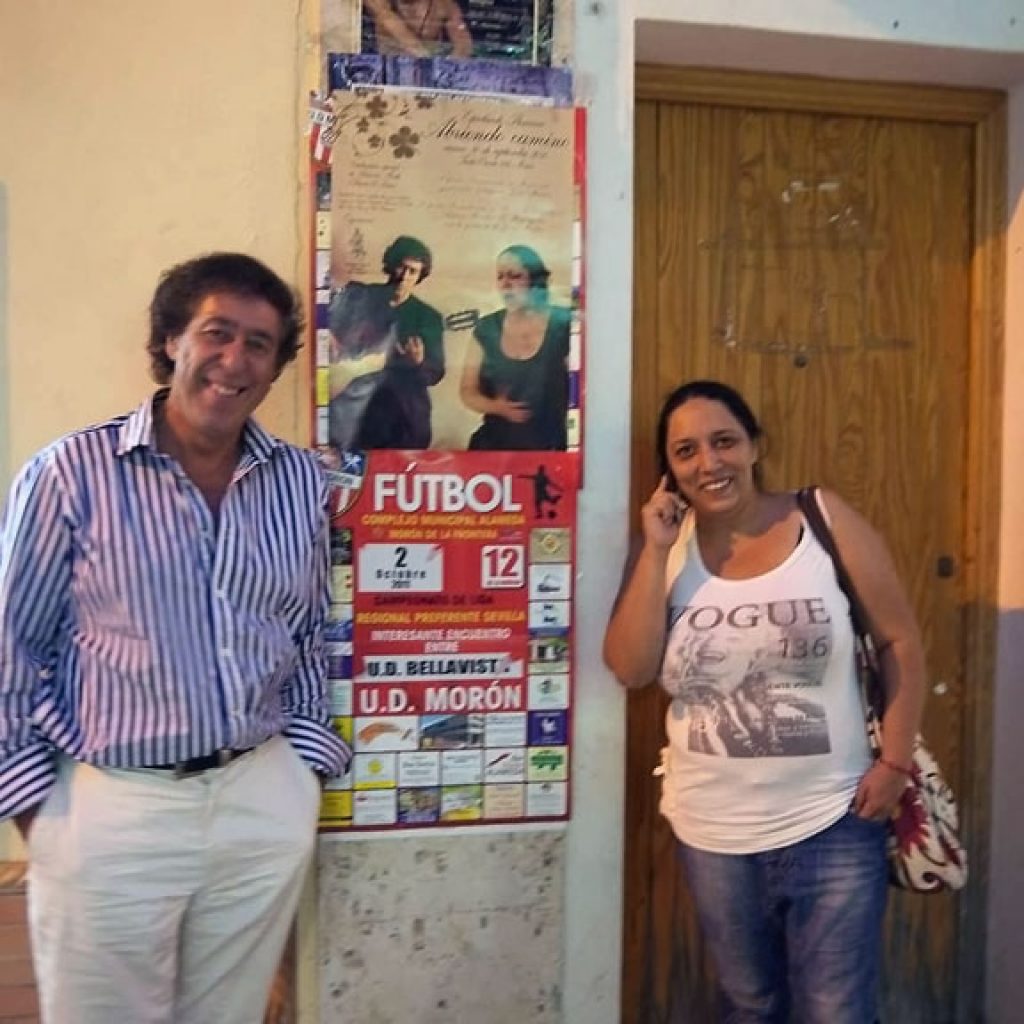 Juan Martín's Flamenco Guitar Course in Ronda, Spain
If you would like to study flamenco guitar in one of the most picturesque towns in all of Spain, where the music and food is as breathtaking as its local history, then Juan Martín's guitar course, held from July 6th -14th this year, might be your perfect vacation.
"My annual course in Ronda, 'El Arte Flamenco de la Guitarra,' came about through the serendipity that my home in Spain is only a forty-minute long drive away," Martín says. "I have always felt very drawn to 'La Ciudad Soñada' – The Dreamt City, a term used historically by locals to describe the town because of its dramatic ravine and for how the entire city is built almost precariously around the gorge."
Ronda boasts of unspoiled mountain views of La Serranía de Ronda and retains many of its historic buildings, including Los Baños Arabes (a Moorish hammam), museums, ancient churches and the oldest bullfighting ring in all of Spain. Julius Caesar has visited the town and drank its wine. And the German poet Rainer Maria Rilke once stayed at the Hotel Reina Victoria, where I hold my course.
"I have recorded at least five Rondeña compositions, and I used to stop by the Reina Victoria Hotel for coffee or a cold cerveza when driving to and from Seville. In 2011, I decided to stay at the hotel for a few days. The hotel director noticed my guitar and suggested that I give a recital. When I mentioned to him that I was looking for the right venue to hold a guitar course, he jumped on the idea, and this summer will be our 9th year for this event.
Below: Juan Martín tocando por Rondeña en el Barbican de Londres (Juan Martín plays the Rondeña at The Barbican in London.)
"At the moment, twenty-three students are coming to study from various countries–Germany, USA, Italy, Ireland, UK , Sri Lanka even Australia. Last year, a student flew in from Dubai and Erez Perelman flew in from Israel, in addition to the students who come from Spain.
"Most of them have studied from my guitar method of the same name as the course or from other publications, such as Solos Flamencos Grades 1 – 5 & 6-8 and the latest two books with accompanying DVDs, Essential Flamenco Vols 1 & 2. The students stay in the hotel, and I teach with an assistant in a couple of good rooms, which is convenient for all.
"Some partners of the guitarists who do not play the instrument choose to study flamenco dance at the local peña flamenco, where I also take everyone to enjoy an evening listening to the local members who sing," Martín says. "There is also a dance competition final that includes guitarists and cantadores of a very high talent level from Jerez, Sevilla and Málaga."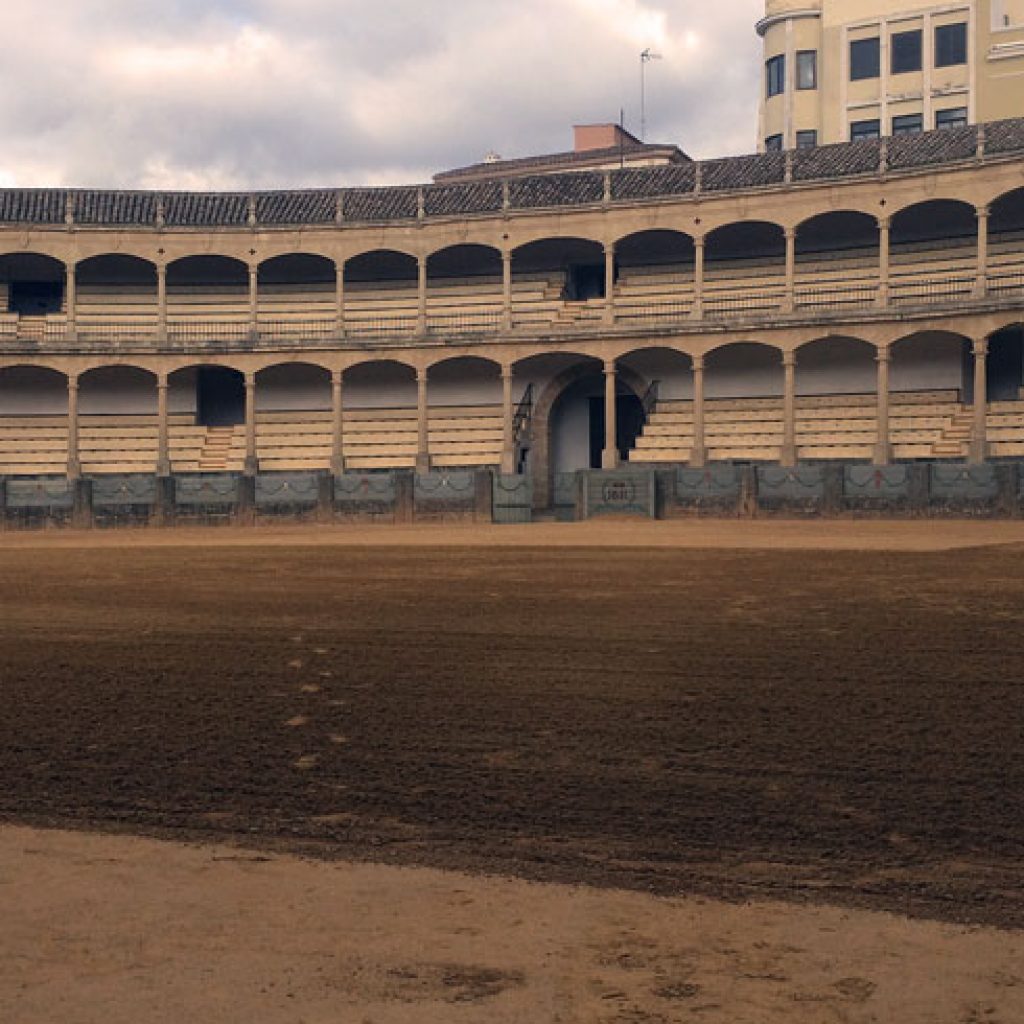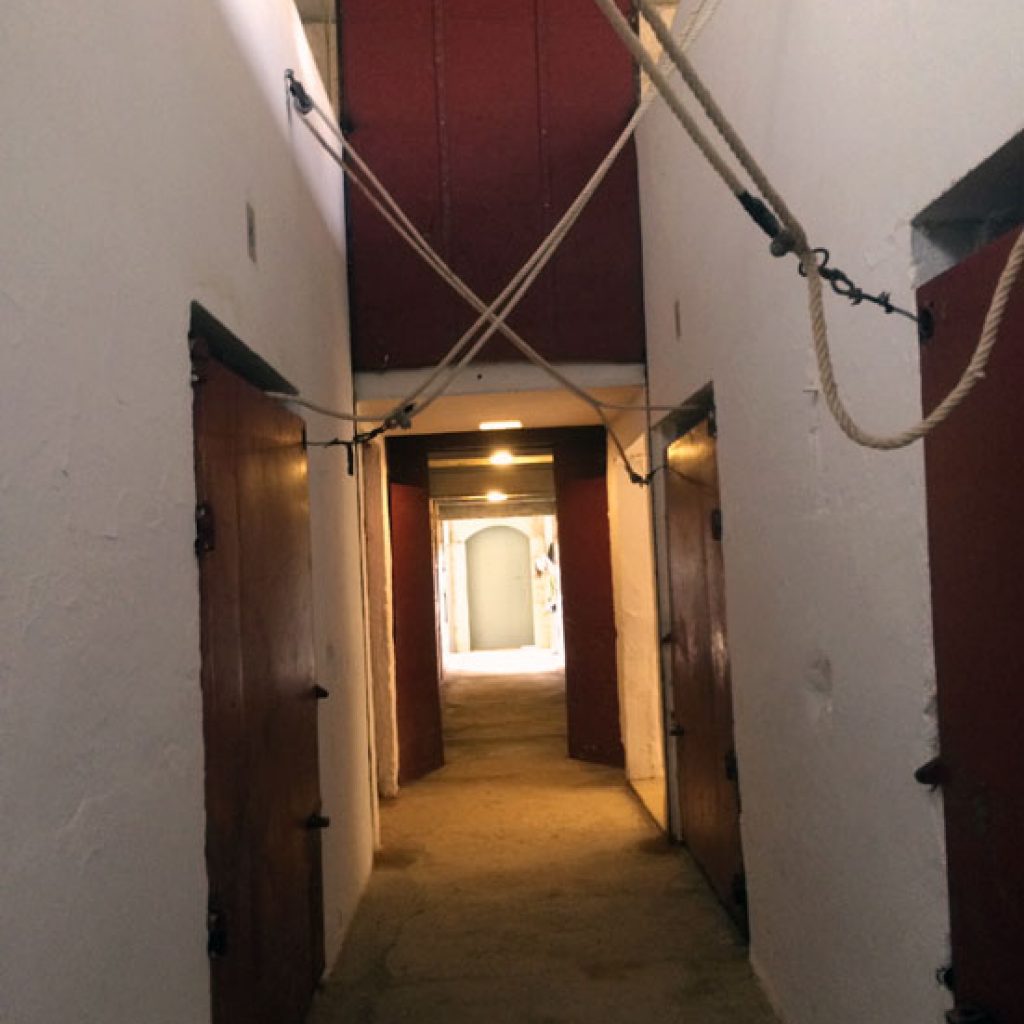 Juan Martín's Other Guitars
"David Rubio made me a rosewood guitar with pegs which I still have. I played it a few times in concert at London's Wigmore Hall, and it has great projection and volume. I recorded my Música Alhambra album (CD 4) with a 1995 Conde Hermanos made of cypress and pine tapa, [Note to readers: this guitar is the one Juan is playing in the cover photo for this story.], and I recorded the El Alquimista CD (CD 2) with a 1994 Conde Hermanos palo santo de Brasil guitar in Andalucia in 1999.
"I also own a 1934 Domingo Esteso peghead guitar, which I used to record my 2015 La Guitarra – Mi Vida album (CD 4). More recently, Erez Perelman made me a blanca and a negra, both wonderful instruments– he flew over to Málaga to bring me the negra in Ronda!
"Stephen Hill gave me a beautiful flamenco guitar last year, which was a wonderful surprise. I 've used it in several concerts on the 2019 Solo tour. Lester DeVoe also made a gift in 1989 of a superb peghead guitar, and I also own a cypress/pine Steve Connor flamenco guitar from Boston. My 'wooden wife,' though, has been the 1972 Sobrinos de Esteso."
* * *
For more details on Juan Martín's concert schedule, classes and summer workshop in Ronda, Spain, please visit www.flamencovision.com. If you would like to learn more details about enrolling in the July "El Arte Flamenco de la Guitarra" guitar course in Ronda, please contact helen@flamencovision.co.uk.
Below is a selection of Juan Martín's flamenco study methods and sheet music: