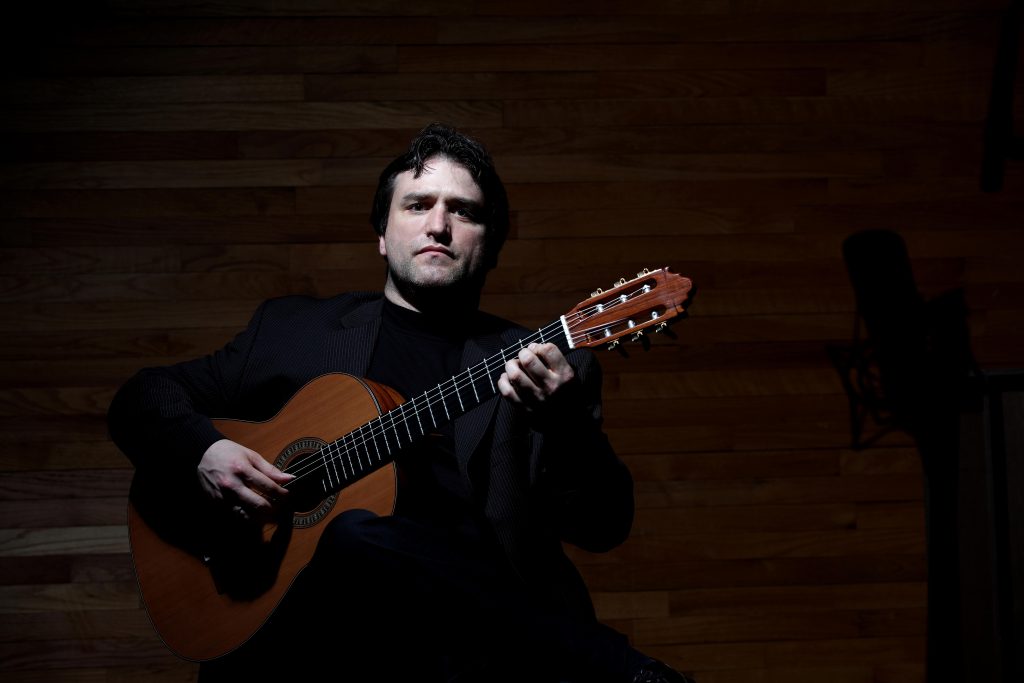 Classical guitarist René Izquierdo's new album release, Cuba en al Alma (Baros Records), "Cuba in the Soul," is an hour-long disc featuring his favorite, selected guitar works written by 19th century through contemporary Cuban composers, namely, Eduardo Martín, Ernesto Lecuona, Sindo Garay, José Antonio (Ñico) Rojas Beoto, Carlos Rafael Rivera, Leo Brouwer and Manuel Saumell.
"I wanted to play pieces that I felt were away from the beaten path, ones that showed a different and more intimate side of Cuban music," Izquierdo says. "Without realizing it, I suppose the music is a little on the melancholic side, but they offer a mixture of transcriptions and original compositions that give a broader sense of Cuban music for the guitar over the past century."
Izquierdo is currently a professor of classical guitar and serves as Guitar Area Chair at the Wisconsin State University's PECK School of the Arts in Milwaukee, in addition to his work as a solo performer and chamber musician. A native of Cuba, he graduated from the Guillermo Tomas, Amadeo Roldan Conservatory and Superior Institute of Art in Havana before earning a Master of Music and an Artist Diploma degrees from the Yale University School of Music, where he studied with Benjamin Verdery. While at Yale, Izquierdo represented the university in an exchange program with the Conservatoire National de Musique et de Danse du Paris, where he worked with guitarists Olivie Chassain and Roland Dyens.
His rendition of Martín's Son del Barrio offers a lively lyrical sentimentality, while Mirándote is gently pensive and wistful, by contrast. Within the first few measures of this album, it's clear that the sound quality is superb, recorded in an ambience that conveys the warmth, presence and clarity of the classical guitar with ideal balance and intimacy. The Barrueco arrangement of Lecuona's La Comparsa is sinuous and pairs sweetly with Danza Lucumí'ssyncopated rhythm. Garay's Perla Marina, arranged by R. Guerra, underscores the sensitivity of Izquierdo's expressive playing.
As it turns out, the album was recorded in the Cathedral of the Isles, located in the town of Millport on the Isle of Cumbrae in Scotland.
"I was on my way to participate at the Classical Guitar Retreat there, a wonderful festival organized by Scottish guitarist Matthew McCallister in a magical setting," Izquierdo says. "Uroš Barič from Baros Records often serves as faculty at this event, and they both proposed that I record an album with their label, which we achieved in two nights, starting at 11 PM and finishing around 3 AM. These hours created little sound pollution from the outside.
"Uroš just took the original sound from within the cathedral without having to manipulate it. He used a Schoeps CMC6 MK21 and an Octava MK 012 mic with an audio interface of MixPre-6 ," Izquierdo explains. "It was so quiet and still during recording that there were moments when I was playing that I wanted to last forever, and it did thanks to the CD. I also experienced some intense feelings during recording that could not be fully captured, though I did my best to convey them through the music."
Izquierdo's performance of the Beoto pieces veer into more contemporary but no less heartfelt territory via Jazmín de me Casa and Dulce y Alfonso, with both sounding like perfect film score music for a sentimental romance film. Composer Carlos Rafael Rivera dedicated his Whirler of the Dance to Izquierdo, a modern piece in three movements which conveys a jagged and energetic opening, followed by a thoughtful Evocation, then closing dramatically with its aptly entitled Dance, which whirls and unfurls its melody over circular arpeggios riding atop an equally driven bass.
For recording, Izquierdo played an Altamira Hanson Mode N3 concert guitar from China. "The Altamira is new guitar that I am playing quite a lot lately," he says. "It's quite a beautiful instrument and very affordable. It's actually surprising what Altamira has accomplished with their instruments. Their high-end guitars are built by hand and come in a wide variety of models, from starting student level to high-end concert instruments.
"Builder Hanson Yao from Altamira studied luthiery in Spain, and he has grown a lot as a builder. I've compared his guitars side-by-side with the best, modern-built guitars, and it truly holds its own. I highly recommended them! I still own my John Price guitar, which I love, but for the time being I wanted to move away for a bit from the Australian sound."
The two Fariñas pieces on the CD modulate toward more subdued emotions as an appropriate interlude before Leo Brouwer's El Decameron Negro, which bursts forth with all of its dramatic, angular sonority. Izquierdo paces this colorful piece with marvelous expressiveness. Brouwer's 6-movement Preludios Epigramáticos offers a well-considered balance of modern lyricism. Saumell's four dazzlingly romantic Contradanzas provide a perfectly lively conclusion to this album as they bookend the spirited, heartfelt quality of this CD. Overall, this recording provides one of the finest showcases in recent memory of contemporary Cuban music for the classical guitar and also in terms of Izquierdo's masterfully accomplished performance. His playing delivers effortless technique and depth of emotion that puts this album on the map as a must-have for anyone who loves the classical guitar.
In case you're curious about the whimsical illustrative artwork depicted throughout the CD, it was created by the Barcelona-based Cuban artist Arema Arega.
"Arema is a singer-songwriter, painter and all-around Renaissance woman!" Izquierdo says. "My father had worked with her in Cuba, producing some of her recordings, and he reached out to ask her if she might create a CD cover that would be more personal and different from the usual. At my father, Rene Izquierdo, Sr.'s suggestions, she came up with ideas to create a view of Havana from the castle in the bay in water color in the back album cover, and, on the front, she drew a more familiar Cuban picture of a couple with a guitar, a table bearing café Cubano, and a window looking to our island that is so far away now in my memory, as it's been twenty-five years since I left. It feels almost like a dreamland, at this point," he says nostalgically.
When asked how he is faring during these days during the pandemic, given the lockdown, Izquierdo says, "It's been challenging. I lost more than fifty concerts this summer alone, and autumn is looking to be the same. I've been trying to find ways to reinvent myself by playing some online concerts, teaching, and staying active as much as possible while maintaining social distancing.
"I've not been in Milwaukee during any summer since 2005, as I've always been touring and performing in festivals around the world. I'm discovering that Milwaukee is a very different city in the summer, and I've enjoyed my time here quite a lot," he says. "Of course I miss the concerts and meeting new people, but that will come again. Right now, I would like to focus more in the quality of my life and my message, and I'm figuring out ways to have a wider spread through use of the internet. I realize there is an over-saturation of videos and performances coming from musicians all around the globe these days, yet the quality is not always reached.
"On the positive side, it's given me time to reflect on my life and the path that I was on, all while assessing what I'd like to do in going forward. It's as if the world has entered this 'Gran Pausa' or fermata, which has allowed me to catch my breath and consider how I might better serve my community and provide music and hope during this time of need and uncertainty.
* * *
In this brief film, René shares some stories about music and composers recorded on this album.
More information on René Izquierdo…and another story on luthier Richard Bruné's amazing repair six years ago of René's Antonio Marin Montero guitar, which was broken by baggage handlers .

* * *