Not long ago, I'd spotted an Alessandro Michele-designed leather Gucci guitar case in the back pages of a fashion magazine with a design that reminded me of the old 70s-era Lite Brite toy screen. Michele's work appears to be strongly inspired by musicians, music and history in a way that intrigued me. Unfortunately, no one from Gucci Corporate responded to my queries, and I'm sure everyone had their hands full of sorting out life after the fashion show in Milan during the midst of a burgeoning, worldwide pandemic.
Digging deeper, I discovered that Gucci issued its very own signature guitar during Tom Ford's reign in the early 2000s, and this guitar was created in partnership with luthier Mark Nicol at his Guitar Classics workshop in Battersea, London. I tracked down the New Zealand-born luthier, whose workshop has relocated in this time to Melbourne, Australia, where he resides with his family. And happily, he has shared with me the incredible story behind his design for one of the most exclusive boutique guitars, ever: the legendary Gucci guitar, in addition to a few other intriguing and inventive projects of his as well.
As it turns out, Mark's Gucci collaboration came entirely out of the blue.
"I was approached by Gucci at my workshops, Guitar Classics, in London, around July 2000. [Tom Ford's Design Director] Isabella Kron from the New Bond Street offices of Gucci phoned me, and I initially thought someone was pranking me so I hung up!" Mark says.
"She called straight back and told me not to hang up as this was for real. She visited me at the workshops within forty minutes to discuss the Gucci guitar project. Gucci's head designer at the time, Tom Ford, wanted to commission lifestyle products including a guitar, a surfboard, a horse-riding saddle and a motorcycle helmet."
Glamour, Glitz & Gucci: A Lesson in Design and Branding
"During a meeting, Gucci's design team mentioned they'd also approached Gibson and Fender regarding this project, and I laughed. I told them of a Tommy Hilfiger painted Les Paul and a Harrod's Les Paul as well as Ferrari Stratocaster and Jaguar Stratocaster," Mark says.
"I reiterated that a Les Paul and a Stratocaster will always remain a Gibson and Fender at first glance, and as Gucci are 'designers' rather than luthiers, they should not touch it with a bargepole. I felt they were to go ahead with this project, the guitar must scream 'GUCCI' from 150 yards distance. I pointed at the Gucci store through the window and said it must be recognisable as a Gucci product at first sight. I then proceeded to pick up an array of sunglasses designed by Gucci and explained how each shape could be transformed into a guitar design. This was probably the moment I won the contract to work on this project."
Developing the Prototype
"After exchanging multiple design shapes back and forth, it was 10:30 p.m. on a Friday night that Tom finally agreed on a prospective guitar shape, in fact two shapes!" Mark says. "My inspiration was to not design from any traditional guitar-based shape—indeed, to stay well away from them. Gucci buckles had a distinctly rectangular shape to them. (Bo Diddly's rectangular guitar shape was not going to cut the mustard.) I was then expected to make two prototypes and fly them out to Milan at 7 am Sunday morning! This was a BIG ASK!!"
"As one shape was based on a traditional guitar shape, I convinced Tom [Ford] to disregard it and go with another that I felt was a very strong design that was both unique and stylish. I also incorporated inspiration from a 1950 Italian furniture designer named Carlo Mollino," Mark says.
"I drew a series of examples of how this could be turned into a guitar, bearing in mind the neck joint shape had to be drawn. What I drew was the neck joint at 20-21st fret and extended tenon joint, using Rickenbacker ideas for access to upper register, as does PRS, and I redrew all other curves to provide balance. This inspiration also suggested the pickguard shape. I also designed the headstock shape, insisting on a raked headstock as well as truss rod cover, machine head buttons, pickguard and knob designs.
"All contouring and shaping was my idea, to give it a sleek modern feel and not that of a slab guitar. When Tom Ford finally approved the design, it included an original headstock shape, scratchplate and absolutely unique contouring that has never been seen before on a guitar. We felt this design had to be modern, sleek and slender, like a fashion model, and classy. Gucci branding was to be small and simply let the shape do the talking."
Mark then went on to make three prototype guitars with nearly inhuman speed.
"The first guitar had to be made in less than thirty hours with the request that I fly to Milan with it fully assembled, using standard pickguard materials for some parts. This first prototype guitar was not lacquered as there was no time–just stained. We also designed the machine head buttons and truss rod covers, working all night and late into the next day to fly to Milan on Sunday morning. The body shaping worked extremely well and the whole design was received extremely well on the day by Gucci," Mark says.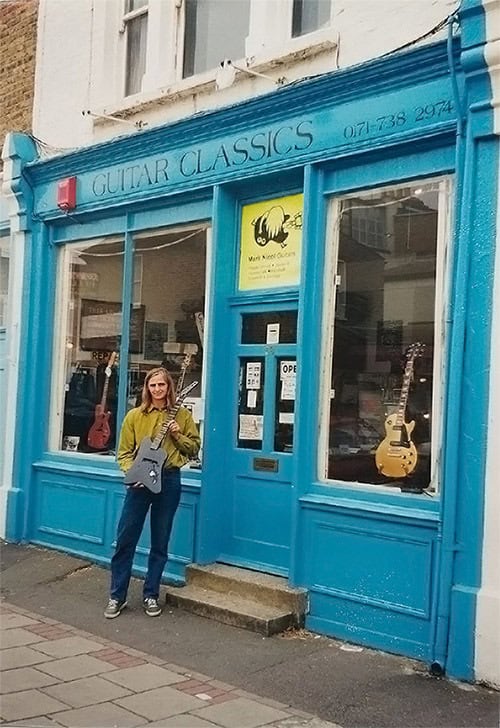 "Obviously, I designed all the technical specifications and instructed Gucci metal workers how to make these, including the curve required on the pickguard for fitting purposes. The head of their metal workshops did a great job, which comes as no surprise—you must check out the workmanship quality on Gucci's belt buckles and other accessories! When the lacquered prototype was fitted up in Gucci's Scandicci workshops everything fell into place perfectly. I had sent parts made in scratchplate material for them to copy as well as detailed plans and measurements.
"The entire process took around 3 months," Mark recalls. "I also started making necks and bodies during this time and organised and instructed suppliers on parts required, including Gucci logo machine heads and specifications of such parts and the timelines required. The contracts and pricing were also agreed upon and payments were made directly to me, as I was the only one dealing with suppliers."
Does Tom Ford play guitar?
"I don't know if Tom Ford plays at all, as I only met him fleetingly and most negotiations were done with Isabella and his design team with Tom having the final say," Mark says. "The guitars were finally finished and shipped around Feb 2001."
"FHM magazine described the design as 'Frankly freakish,' which I took as a huge compliment.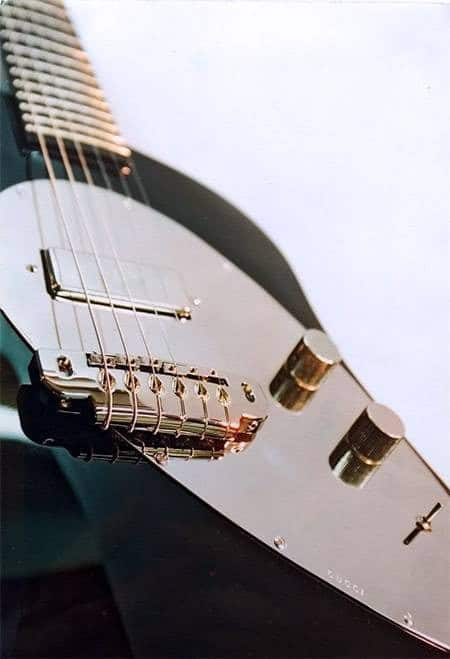 "Once we contracted to build a number of guitars and sorted out the intellectual property rights–I had drawn comprehensive plans at this point including all hardware by hand–I started to organise the parts and hardware to be used," Mark says.
"This involved trips to Gucci headquarters in Scandicci Florence (Firenze) and coordinating with Gucci's metal workshops, as they made the scratchplate with a convex curve to match the body, and the truss rod covers, volume and tone knobs and machine head buttons all with Gucci logo. I was given a tour of the place and saw amazing skins and leather and the handcrafted Gucci bamboo handle bag being made as well as Aldo Guccis' 'Gucci Cadillac' with its gold bumpers and door handles with a Gucci leather interior, wow!!"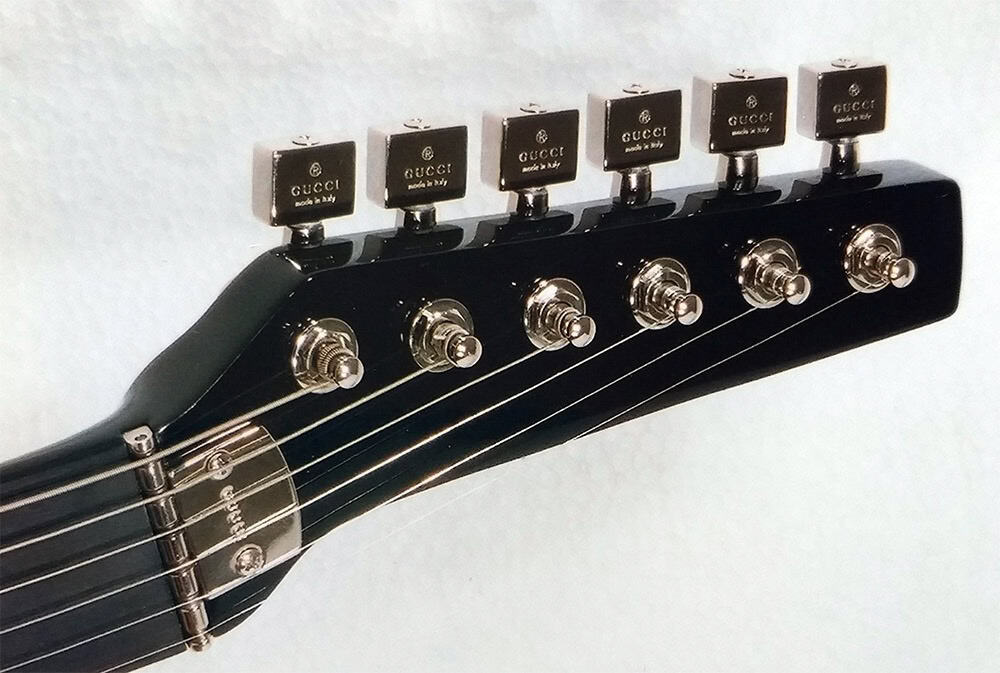 Mark assembled the very first Gucci guitar at Scandicci to ensure that all the hardware worked and fitted. The first completely finished prototype, which features the Gucci logo in diamonds on the volume knob, resides in the Gucci museum in Florence. "I made another fifteen guitars for release at my London workshops," Mark says, "and these were completed in January 2001."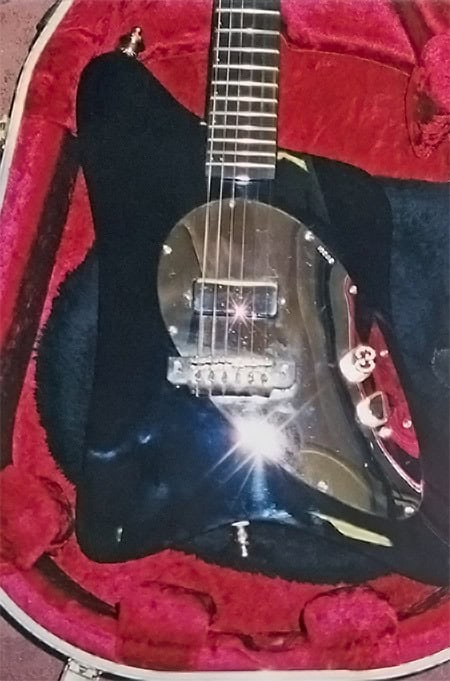 The Gucci Guitar Glitterati
"I also advised that these guitars be sold exclusively via the Gucci shops and advertised in fashion magazines only, as these instruments are the world's most exclusive boutique guitar ever made and still are," Mark says. "Special luminaries who obtained one include The Edge (appearing at ~2:41 in U2's Elevation video), Sting (a 50th birthday gift from Tom Ford), Madonna, Elton John, Courtney Love, Cameron Diaz (who bought one for Jared Leto,) Mary J. Blige and Paul Allen of Microsoft. The Beastie Boys even mention it in a lyric! Gucci featured the guitar in a fashion shoot for GQ magazine and BRUTUS magazine in Japan, and FHM of Australia."
The Official Guitar Specs
"It was 'the coolest project' to work on and Gucci designers and craftsmen were a pleasure to collaborate with as well," Mark says.
"Contrary to some descriptions out there, the guitar body was made of swamp ash, and the neck was Canadian hard rock maple with an ebony headstock plate and 10-degree rake plus an ebony fingerboard. The inlays were purposely very small and the guitar finished in Polyester Black gloss, no clear coats. Black is the new black!
"The guitar's hardware was nickel-plated. Gotoh made the machine heads with Gucci logo, and we swapped the buttons with Gucci made buttons, a Gotoh 510 wraparound bridge, Seymour Duncan mini-humbuckers ceramic magnet, Schaller straplocks, CTS pots, Switchcraft barrel jacksocket, Sprague capacitor, 3-way micro toggle switch (even had the toggle nickel-plated) and emg PA-2 preamp. It was a 22 fret 25.5" scale length, LMI jumbo frets, and an LMI truss rod. These guitars originally listed at £10,000 pounds sterling, $20,000 USD and $25,000 AUD.
"I believe Billy Gibbons purchased one of these guitars at some time as well," Mark says.
The Paul Newman Barretstown Gala Guitar
Mark Nicol clearly has a reputation for building some of the most stylishly-shaped guitars in addition to being highly-coveted instruments. In 2003, he created a unique model for Paul Newman's Barretstown Charity Gala in Ireland, which was played by both Paul McCartney and The Edge before it was sold for £50,000. The Kelly green guitar, built to reflect the shape of the Barretstown logo, came with a pure silver plectrum bearing the Barretstown logo as well.
"My wife worked as a marketing consultant for Barretstown at the time and suggested I create a guitar for a gala auction event, which also included a Porsche donated by Wolfgang Porsche, Manchester United packages, and fine artwork. The guitar was played by both The Edge and Paul McCartney, who joined in on autographing it with Paul Newman, who signed his name as well as Robert Redford's, as he claimed he was constantly mistaken for Robert!" Mark says.
The Robin Millar Guitar
Another one of Mark's unique creations is a guitar he made for British record producer Robin Miller, CBE, who has worked with Sade, Stereophonics, Oasis, Boy George, and many other artists.
"This guitar's design was inspired by a Le Corbusier chaise longue and 1930s-era chrome venetian blinds," Mark says. "Robin, who started losing his eyesight during the production of Sade's debut album, wanted a guitar to WOW his dinner guests with. The soundhole was designed in the shape of chaise longue's legs but with opening and closing mechanisms that emulated venetian blinds. This acoustic guitar also has rounded chromed binding to emulate the tubular steel of the chaise longue. This was probably the most challenging guitar I've ever made."
Piezo Pickup Staircase
Skip the game of musical chairs and head straight for the musical staircase! Mark has also created a strung staircase with the world's longest piezo pickup system ever for an unnamed record company owner for his "Lads Pads" warehouse apartment in High Holborn, London, where the Pet Shop Boys once lived next door.
"Each string of the staircase has its own bridge and bone saddle, and the piezo runs under the saddle, thus amplifying the strings," Mark explains, "which are programmed with a search-and-destroy feedback function and a few milliseconds fadeout delay function. The word piezo comes from Greek and means 'under pressure.'
"Basically, a piezo crystal at rest has positive and negative ions floating around randomly, but when put under pressure or squeezed, the positive ions flow to one side and the negative ions to the other side, thus creating a current flow between them. This tiny current flow is then fed through a preamp to boost the signal and colour the tone before it reaches the main amplifier for full amplification to the speakers, et voila! We hear the amplified string notes.
"Imagine a standard steel-string guitar–" Mark further clarifies, "the piezo transducer fits underneath the saddle so, once strung to pitch it is under pressure, and when a string is plucked, this creates a varying pressure on the saddle and creates a tiny current for that string only, as there are separate piezo crystals under each string connected with an earthing strip and signal link.
"With the stairs, each string had its own individual saddle and a 28-foot-long piezo cable. During World War II, piezo cables were buried underground and used to detect tank movement from the enemy. The piezo cable for the stairs ran under each saddle consecutively, then to a preamp and switch so you could turn the stairs on or off, and eventually the cable ran to a Sabine Pro EQ unit and effects processor and finally the amp and ancillary speakers around the room. The strings were deliberately arranged to appear as a handrail. The strings were tuned chromactically C – C , D – D, etcetera. There were 56 strings in total, with no flats no sharps, so it sounded very 'church-like'. As we all know those dreaded minor keys are the Devil's notes! It took about five or six people sitting on the stairs to play the whole ensemble at once.
"Needless to say at this point I stopped taking drugs!!" Mark jokes.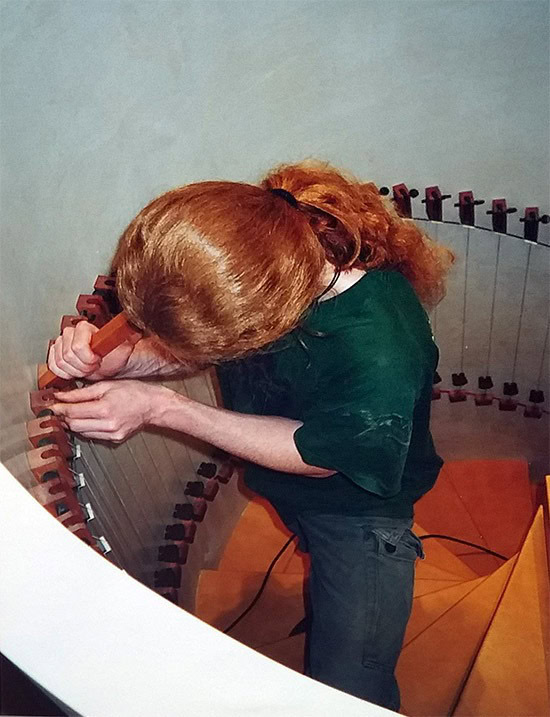 New Projects
"There's a range of guitars called Desire that features the Gucci body shape, as contractually the Gucci guitar design reverted to me five years after their last order, albeit without using the Gucci logo, in addition to another body shape with different headstocks and different pickguard shapes that have become my Jailbird range. All new projects I take on these days are commission-based only."
* * *
To query Mark Nicol about these guitars in addition to any other projects, the best way to contact him is via Facebook.