A few years ago, one of the first stories on this page featured an intrepid band of strummers and crooners who played at Conté's Market in Yorktown on the far Upper East Side of Manhattan.
Led by The Sopranos actor Dominic Chianese on his guitar, this devoted group of melodious retirees and musicians entertained local passersby and visitors until their weekly stage faded with the old world butcher shop's closure in 2016. Chianese decided to move with his wife back to her hometown in London, and the Conté's Market crew held what was believed to be their final farewell concert at The Cutting Room in November 2017.
However, they are back on the map weekly once again as "The Yorktown Ramblers" at Beanocchio Café, on York Avenue at 76th.
Guitarist and actor Peter Van Wagner, who recently starred with Meryl Streep and Tom Hanks in Spielberg's The Post, says, "We reformed the group this past April when we were asked to play a couple of WWI songs for a press conference announcing a number of celebratory events to honor Tennessee marksman, U.S. Army Sergeant Alvin Cullum York, for whom York Avenue is named."
"Councilwoman Rebecca Seabright's office planned the event and decided we needed a name so the committee named us 'The York Avenue Ramblers,' Van Wagner says. "Band member Tommy Crowfis, who sings and plays percussion, is the one who got us involved with this event and this gig got us all back together again after months of inactivity.
"We started the whole thing off by playing Irving Berlin's, 'Oh How I Hate to Get Up in the Morning.' Then when the press conference began, everybody spoke, and we played a medley of 'You're a Grand Old Flag' and 'Yankee Doodle Dandy.'
The press conference was held on the sidewalk in front of the Webster Library at York & 77th. [Photo, up front and right to left: Mary Ford on the Irish bodhrán, band member and dentist Howard Tichler on the saxophone, Peter Van Wagner on guitar.]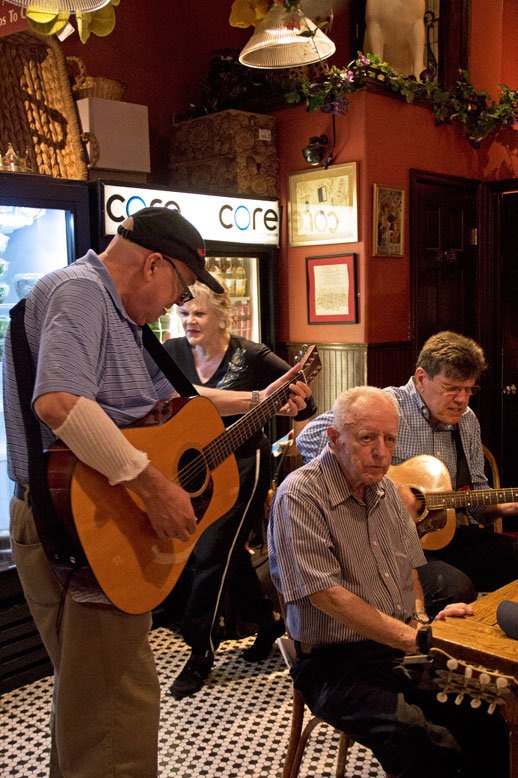 "Barbara McPeek, who is a fan, was instrumental in talking to Darrell, the boss at Beanocchio Café and helping secure it for us as our new, one-hour-long Friday morning performance venue," Van Wagner says.  "I don't know how she did it. She is a retired nurse and used to work nearby. She likes to sing the high note at the end of songs."
I darted uptown to photograph and catch their Friday morning jam, which runs from 10 to 11 AM weekly. Van Wagner warned me, "It's different than before but still a good time. We've lost a few people, though. Both Candy and Loretta have died and some of the others players have stopped coming. We also have some folks you've not met."
Glamorous and irreplaceable Loretta always wore a feather boa and joined with singing and the maraca rhythms. And 88-year-old regular Carmello "Candy" Candido used to preside nearby with a blissful smile.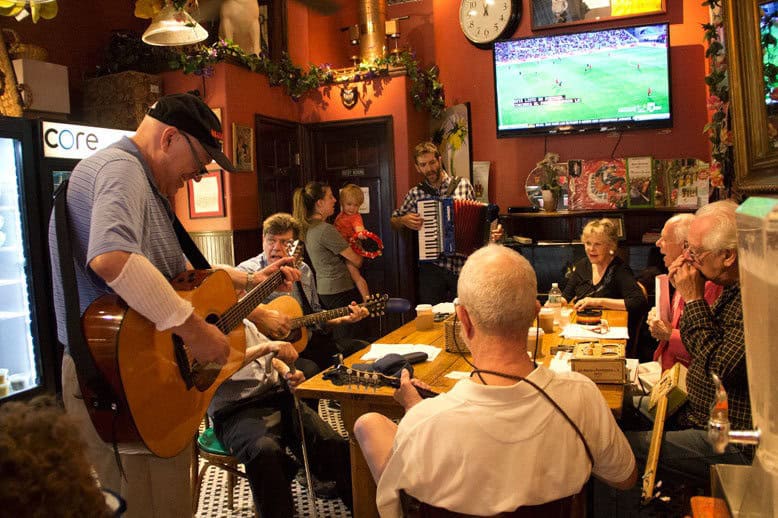 I found Beanocchios to have as much charm as the old Conté's Market with its tin ceilings and charming family atmosphere, not to mention great coffee, baked goods and freshly mixed salads. The Yorktown Ramblers hung toward the back table, with accordionist Tom Socci darting after his runaway toddler son in between tunes until the tike was enthusiastically put in charge of the tambourine.
Singer and percussionist Tommy Crowfis supervised the band's song list, which included fare like, "Wild About My Lovin'" and "Bill Bailey." Dennis Woloch accompanied on both harmonica and played slide on a cigar box guitar. Guitarist Bob Batch and mandolin player Steve Price joined in with spirited strumming and singing.
At one point, Joe DiCerto stood beside the edge of the table and launched into a solo of the Sinatra classic, "Learning the Blues," accompanied by Van Wagner on lead guitar. And Tom Socci's accordion playing punctuated and floated over all of these melodies warmly.
Interesting bits:
"Harmonica player Dennis Woloch is a graphic designer who designed many of Kiss' album covers.  He also works with Diana Ross doing graphics for albums and concerts. He turned me on to the Jim Kweskin Jug Band and we do covers of their tunes," Van Wagner says.
"Mandolin player Steve Price is an author of a highly regarded book about Bluegrass music, Old As The Hills: The Story Of Bluegrass Music. He's now retired.
"Our accordion player Tom Socci and his wife Xandra got married in Tom's ancestral hometown, in Sette Frati, Italy, which is not an easy thing to do what with all the red tape involved for a foreigner. He stopped by Conté's for a coffee years ago. He decided we needed an accordion, rented one and learned to play.  Later, Dominic gave him an accordion that was in his family."
"Joe DiCerto is an author and former CBS executive. Years ago, he appeared on Johnny Carson's Tonight Show to discuss nuclear submarines.  He is a renaissance man who composes orchestral music and musical theatre songs. Back in the day, he used to tour and perform jazz with the Paul Whiteman Orchestra. He is writing a book about time travel, and he's been trying unsuccessfully to get Steven Spielberg to produce one of his film scripts. He's unstoppable.
"Guitarist and singer Bob Batch and his wife Bronagh O'Rourke have an Irish music band. Bronagh has a wonderful voice and they add a lot to the group.  Bob has been playing gigs with Dominic for years. He works as a building super here in Manhattan.
"Tommy Crowfis knows Dominic from the restaurant Neary's on 57th Street. Dominic used to live down the street from Neary's and recruited Tommy and Ray Jameson who tends bar there.
"And Mike Longobardi, (hanging toward the back, wearing the yellow shirt and cap in the photos) is a retired elevator operator who won't take elevators or subways anymore.  Mike lives in the building next door to me and has attended every one of our sessions nearly every Friday without fail for the past 8 or 9 years.  His cousin Jimmy lives in Astoria and sometimes comes to sing great blues. Mike used to live in the old Italian neighborhood on East 116th St and Pleasant Avenue and I go to the Italian Giglio festival with him there every August.
"That's my story and I'm sticking to it," Van Wagner concludes.
Oh, and 87-year-old band mate Dominic Chianese, the culprit responsible for launching all this jollity with his Neopolitan songs and tenor voice, is back in town to shoot the new 2019 NBC television series, The Village. He will be playing the role of Brooklyn-born Enzo, a nursing home retiree in a drama that focuses on the intersecting lives of residents in a Manhattan apartment building.
* * *
The Yorktown Ramblers perform every Friday, from 10-11 AM at Beanocchio Café, located at 1431 York Avenue right off 76th Street.
Van Wagner is featured as The Professor of Rock 'n Roll on p. 262 of My First Guitar: Tales of True Love and Lost Chords (Souvenir Press, Ltd.)
* * *